'King of Fairy Tales' fights back against infringement
Renowned writer shares his views on issues to be addressed by Anti-Unfair Competition Law
Renowned writer Zheng Yuanjie called for increased protection of influential literature imagery at a recent intellectual property forum in Beijing.
"Without authorization, businesses cannot use influential characters as their names," he said, suggesting it be added to the Anti-Unfair Competition Law amendments, which were submitted to the Standing Committee of the National People's Congress for review in February.
Zheng started to publish a monthly magazine - The King of Fairy Tales, a collection of children's stories - in 1985 and has spent decades writing especially for children.
Many of the images he created for his stories are popular with generations of young Chinese readers and have become household names in the country.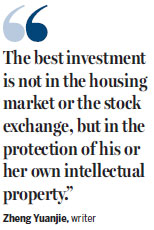 Every issue of the magazine contains its legal counselor and attorney's names, with a legal statement for reserving copyrights included in most of them, Zheng said.
The move was aimed at planting the concept of intellectual property in readers' minds, he said.
The writer has now reaped a harvest. Zheng discovered several cases of IP infringement thanks to notifications from his readers, he recalled.
"For a writer, the best investment is not in the housing market or the stock exchange, but in the protection of his or her own intellectual property," he told the forum.
Many businesses, including restaurants, have adopted the popular characters' names and likenesses in their branding.
The Supreme People's Court decided in January that courts should support owners of characters in creations that have established a reputation when they claim related rights via legal procedures.
"It is a milestone in China's IP protection," Zheng said.
Otherwise it would be almost out of the question to file so many trademarks in such a wide range of businesses, he said.
The writer said he had once considered quitting, as he felt pirated books might even surpass genuine ones in the 1980s and 1990s.
The situation has been turned around since 2000, however, as the country has increased efforts in fighting counterfeits. He started to prevail in a series of copyright cases.
The veteran creator called for IP education among children.
At a nearby international school, a teacher told students on their first day of school that they will face expulsion for plagiarism. "Give credit to sources of citations in your homework," Zheng cited the teacher as saying. "Without noting that they're from others, it is plagiarism."
Zheng also faces other challenges, including online piracy and dishonesty.
He said about 60 percent of the printing houses he has cooperated with have lied to him about printing copies of his books.
"All writers should open their eyes and look at the genuine copies of their books, rather than always focus on house prices - that is real wealth management," he said.
Shen Changyu, commissioner of the State Intellectual Property Office, said: "We need to evaluate IP protection's efficiency and effects, and satisfy the growing needs.
"The future will cover the entire range of IP services, from filings processing to enforcement, to reduce rights owners' costs in maintaining interests."
wangxin@chinadaily.com.cn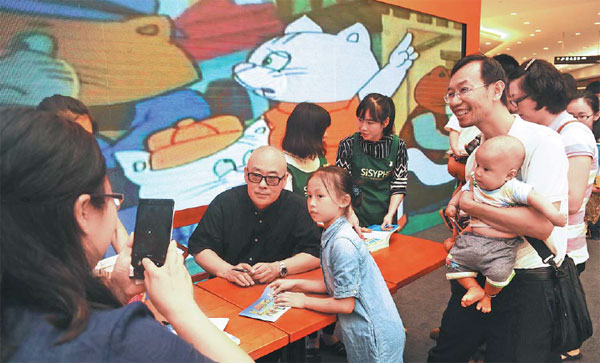 Writer Zheng Yuanjie (center) poses for a photo with his readers during a book-signing ceremony at a bookstore in Guangxi. Song Bingjia / For China Daily
(China Daily 05/18/2017 page17)
Today's Top News
Editor's picks
Most Viewed