Volvo Cars ships its S90 to Belgium under B&R Initiative
Belgian Deputy Prime Minister Kris Peeters witnessed the historic moment of a luxury Volvo sedan being loaded onto a container in Heilongjiang province on Saturday - the start of China-made cars being exported to fulfill Western European demands.
Volvo Car Group, also known as Volvo Cars, plans to regularly move the all-new Volvo S90 Luxury Sedan, manufactured in Northeast China's Daqing plant, from this month onward to Ghent, Belgium.
As a distribution center, the city will help Volvo to achieve rapid growth in Europe and Asia alike, while contributing to the implementation of the Belt and Road Initiative.
Volvo's Ghent plant, topping its peers in Belgium in terms of scale, is located on the western side of the Silk Road Economic Belt, while the Daqing plant sits on the east. Both factories are expected to continuously enhance their cooperation in personnel exchanges.
"This model is doubtlessly a great example of the mutual benefits in a win-win situation under the Belt and Road Initiative and will add to Volvo's growth in China and Europe, about which I'm confident," Peeters said.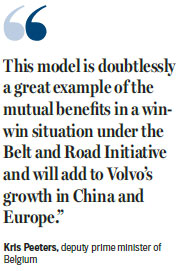 "By visiting Volvo's Daqing plant before attending the Belt and Road Forum for International Cooperation in Beijing, I want to gain an intuitive understanding of achievements brought by the Belt and Road Initiative. This plant has been operating very successfully."
During this visit, Peeters focused on Volvo's industry-leading manufacturing systems, such as the Scalable Product Architecture platform, or SPA, with high praise for the Daqing plant's manufacturing capabilities, stringent quality control system, and effective and efficient management processes.
During the ceremony, Hao Huilong, vice-governor of Heilongjiang said: "The Daqing plant is showing positive growth momentum thanks to cutting-edge automotive production technology from Volvo.
"With world-leading auto products shipped by the China Railway Express, Volvo is adding to the vitality of economic development in Daqing in China and Ghent in Belgium and that of the economic and trade ties between the two countries.
"This is a perfect example of shared growth and cooperation under the Belt and Road Initiative."
The company's export plan will totally rely on the China Railway Express, 44 days fewer than by sea, allowing the plant to respond quickly to European market needs.
This innovative transportation will not just save shipping costs, but more importantly drive collaborative development based on local advantages in both Daqing and Ghent, allowing Volvo to achieve rapid growth both in Asia and Europe.
"Volvo Cars had remarkable performance here in China. The all-new Volvo S90 Luxury Sedan produced at the Daqing plant has officially been exported to the United States since April," said Yuan Xiaolin, senior vice-president of Volvo Car Group and president & CEO of Volvo Car Asia Pacific.
"The exported products are identical to those sold here in terms of quality, and they demonstrate that China's automotive industry has entered a new era of global production. China-made vehicles are now able to compete in the global markets to serve consumers worldwide," he continued.
Yuan added: "We at Volvo Cars are willing to continue contributing to the implementation of the Belt and Road Initiative." Positioned as the "benchmark-setting plant in the world", the Daqing plant is producing vehicles based on Volvo's world-leading SPA.
As part of Volvo Cars' global manufacturing and supply chain system, this plant works under a unified system of research and development, procurement, materials and quality standards that are followed worldwide.
The carmaker is implementing the "intelligent manufacturing" advocated by the Chinese government in the plant, in the hopes of not only providing world-class product quality, but also ensuring products and experiences consistent with those in Sweden.
haoyan@chinadaily.com.cn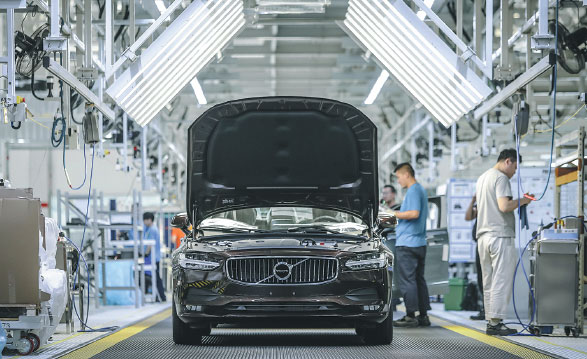 Workers inspect auto parts on the production line of Volvo's Daqing plant in Heilongjiang province. Photos Provided To China Daily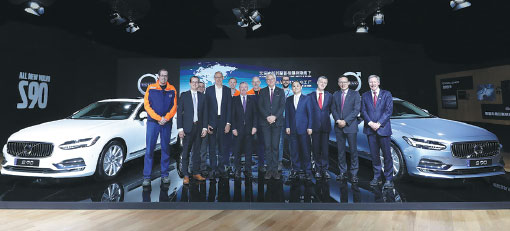 Representatives from Volvo and Belgium visit the carmaker's Daqing plant.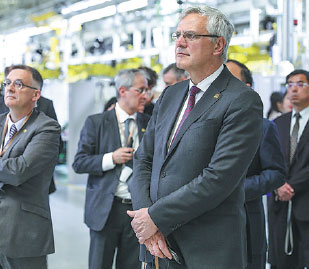 Kris Peeters (front), deputy prime minister of Belgium, visits Volvo's Daqing plant.
(China Daily 05/16/2017 page17)
Today's Top News
Editor's picks
Most Viewed