When 19-year-old Serbian high school student Katrina Stojanovic stood on the stage of the ceremony hall of Xinhua News Agency in Beijing to share her story in Chinese, gasps of amazement spread among the audience when the first word was pronounced - it was hard to tell the voice belonged to a foreigner.
As the champion of the "Chinese Bridge" Chinese Proficiency Competition for foreign secondary school students in 2015, she admitted her Chinese was probably better than her mother tongue.
"I first heard the language when I was in my mother's belly," says Stojanovic, daughter of a Sinologist. "I recall the days when my grandparents said Chinese was my destiny."
In the 1960s and 1970s, Chinese bicycles and cloth shoes were very popular in the former Yugoslavia, but it was not easy to get them. When her grandfather wooed her grandmother, the man saved up for a long time for a pair of Chinese shoes to make himself look different from others. Believing that China would change his life, he bought a Chinese bicycle after marriage.
"He passed the passion to her daughter, and my mother didn't hesitate to choose Chinese as her major in college," Stojanovic says.
Their love for China passed to the third generation and Stojanovic applied to a high school that had Chinese classes in Belgrade. This is among the 100 stories in The Belt and Road: People with Stories, a recently published book jointly compiled by Xinhua News Agency, State-owned Assets Supervision and Administration Commission and the Confucius Institute.
The entries have been selected from hundreds of stories concerning ordinary people in foreign countries that are related to the Belt and Road Initiative. The books have been published in Chinese, English, French, Spanish, Russian, Arabic and Portuguese.
From Pablo Cordova, an Ecuadorean hotel employee who survived a deadly earthquake because of a Chinese rescue technology, to Sherba Kalimovich, a Kyrgyz farmer who lifted his family out of poverty by growing Chinese corn, the book has individual stories to reflect the big picture of the project initiated by China.
As an earthquake survivor, Cordova also met President Xi Jinping during his visit to Ecuador last year.
"I was so excited to give him a hug," Cordova, 52, recalls.
Cordova now works at an earthquake rescue center, which is equipped with Chinese technology.
People's pursuit for better lives is recorded in these stories. For example, Tajik workers at Chinese cement plants successfully supported their country's ambition to be a cement exporter. In Aleppo, Syria, local handmade soaps continued to supply Chinese market in spite of the war.
"Some countries have been dragged into longtime unrest by outside interferences," Cai Mingzhao, president of Xinhua News Agency, wrote in the preface of the book. "However, from China's peaceful development, a large number of developing countries have realized the existence of a path of development that is different from Western models. In their eyes, this path is closer to their national realities and is more rational and feasible."
"The Belt and Road Initiative is the bond maintaining emotions between China and the rest of world," Stojanovic says. "It also leads us to approach a brighter future together."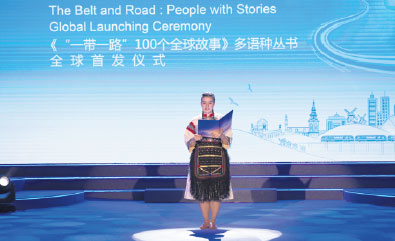 Serbian high school student Katrina Stojanovic shares her story in Chinese at an event in Beijing. Jin Liwang / Xinhua
(China Daily 05/15/2017 page19)