JAKARTA - Indonesia is thankful for Chinese investment in Indonesia and expects more in the infrastructure and energy sectors, Indonesian Foreign Ministry spokesman Arrmanatha Christiawan Nasir said.
Nasir told reporters that Indonesia and China maintain close economic relations, both in trade and investment.
Noting that Chinese investment in Indonesia has been experiencing rapid growth in recent years, he said Indonesia is grateful to China for that.
Data from Indonesia's investment coordinating board showed that China's foreign direct investment in Indonesia surged to $2.7 billion in 2016, increasing 324 percent compared with a year earlier.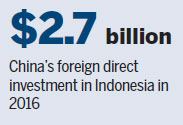 The spokesman said the main area in which the two countries can strengthen cooperation is infrastructure, such as through construction of toll roads, harbors and airports.
Indonesia's energy sector could also benefit from future Chinese investment, he added.
The country, which has 17,500 islands and extremely low power supply costs, amended its renewable energy law in May to include charging standards for renewable energy projects. Currently many Chinese companies are vying for opportunities in the sector.
Xinhua - China Daily
(China Daily 05/15/2017 page45)