Event connects Chinese, Filipino entrepreneurs, aims to promote cross-border trade and investment
MANILA, Philippines - Kristoffer dela Cruz, vice-president of sales and marketing at Hopping Buddies Travel & Tours, was among the more than 300 Chinese and Philippine entrepreneurs that took part in the cross-border trade and investment matchmaking session on March 18 in Manila.
Dela Cruz said at the event that his travel agency is very excited to offer and promote the Philippines to the Chinese tourism market.
"By meeting face-to-face with our Chinese counterparts we are now assured that the Philippines will be included in their list of tourist destinations. That is something to look forward to," Dela Cruz told Xinhua News Agency, adding that their company would like to tap into the Chinese tourism industry.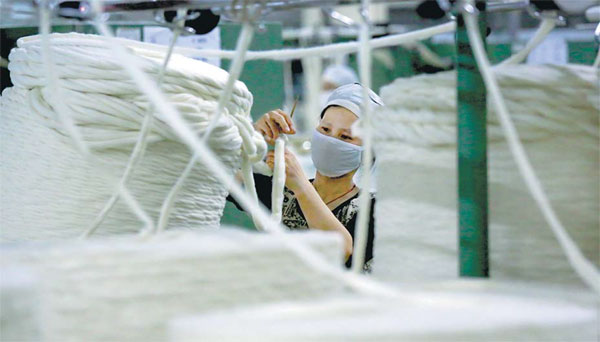 A woman works at a Philippine-invested textile factory in Jiujiang, Jiangxi province. Zhang Haiyan / For China Daily
In 2016, Dela Cruz said, China had more than 100 million outbound tourists, of which the Philippines captured only less than 1 percent. "There is a huge potential to tap into the Chinese market given that the Philippines is only three to four hours away from China's major cities," he said.
Rafael Valdez, chairman and CEO of Auburn Power Technologies Inc, also came to the forum to have a face-to-face meeting with his Chinese business match. Valdez was looking for a Chinese company that could fund his mini-hydro electric project in Naguilian province in the main Philippine Luzon Island.
"We are happy to know that they have shown interest in funding our project," he told Xinhua. He said the Guangxi Hydroelectric Construction Bureau Co Ltd had sent engineers to the project site on March 17 to look into the detailed engineering design, hydrology assessment, and environmental study of the project.
"They are satisfied with our proposal and they thought the project is good and it's ready for further negotiations for funding. We are now in the final stage for financial closure," Valdez said.
Shen Jian, deputy general manager of International Engineering Co based in the Guangxi Zhuang autonomous region, said he saw a lot of potential on the hydro-power project.
"I think it's good that we have met face-to-face and to know exactly our requirements in building this project with much more efficiency. We also want to use Chinese technology to help the Filipino people develop their energy projects in the Philippines," Shen said.
Vice-Premier Wang Yang, who was in Manila for a visit, delivered a speech at the forum. He said the event attracted a great number of representatives from both sides, and it showed positive expectation for practical cooperation between China and the Philippines, as well as a vote of confidence for friendship between the two countries.
The business matching initiative provided a platform for Philippine micro, small and medium-sized enterprises to be partners with their Chinese counterparts in potential joint ventures.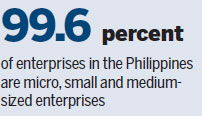 Bank of China Philippine head Deng Jun told a news conference on March 18 that of the more than 300 Philippine and Chinese entrepreneurs who met during the session, at least 77 percent or around 230 had agreed to reach and sign an agreement.
Philippine Trade and Industry Secretary Ramon Lopez said the event "certainly bodes well" for the MSMEs, as it provides them with the right business environment to grow and develop.
He said that MSMEs serve as a backbone for the Philippine economy, accounting for 99.6 percent of all the number of enterprises in the country.
"This is the reason why we really put great emphasis on generating and promoting more MSME empowerment," Lopez said.
With the support of their Chinese counterparts, Lopez said local MSMEs would be able to seize opportunities in the current global market.
Moreover, he said that the business matching initiative "showed how far the Philippines-China relationship has broadened with prior commitments now producing tangible results".
In the wake of Philippine President Rodrigo Duterte's State visit to China in October last year, the Philippines and China have accelerated trade and investment engagements.
Xinhua
(China Daily 05/15/2017 page42)