Innovation key to Chinese-Swiss collaborative relationship, joint efforts to upgrade industrial structure
Switzerland, well-known as "a country of brands" in Europe, has much to share with China, which is dedicated to upgrading its manufacturing industry toward intelligent manufacturing, a strategy known as imChina.
The two countries have enjoyed steady and growing cooperation, forging a unique innovative strategic partnership in 2016.
Thanks to the deepening innovative cooperation between them, the synergy of "Swiss made" and "imChina" will bring fresh vigor to traditional manufacturing, industrial insiders said.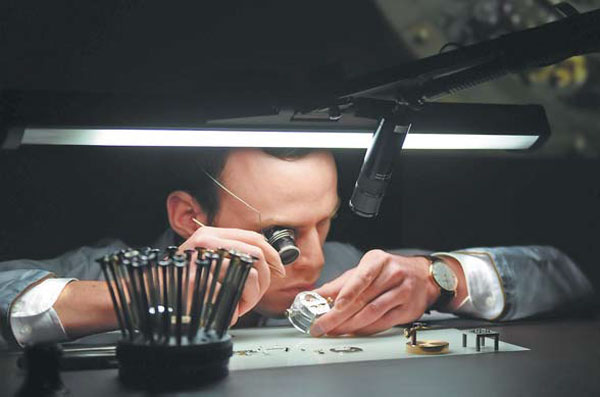 A watchmaker from Geneva, Switzerland, showcases the European country's traditional manufacturing expertise at a Swiss cultural exhibition in Beijing. Luo Xiaoguang / Xinhua
Swiss enterprises have a reputation for constantly striving for perfection and innovation. Therefore, products made in Switzerland - ranging from chocolate and cheese to watches and army knives - have become symbols of high quality.
Switzerland ranked No 1 for six consecutive years on the Global Innovation Index, according to the World Intellectual Property Organization.
The key to innovation lies in qualified people, and Switzerland's unique training mechanism has produced generations of skillful craftsmen.
In the 1990s, the Swiss government conducted higher education reforms, merging more than 60 vocational technical institutes nationwide into seven universities of applied sciences according to the regions where they were located.
These universities, including the prestigious Lausanne Hotel School, have introduced career-oriented institutes and majors, which are closely linked with local economic and social development, and stress applied research and development.
Nowadays, these new types of universities are changing Switzerland's higher education system. They have provided many skilled workers to high-end technology sectors to spur industrial development and have become an important force in the Swiss system of state innovation.
Innovation and persistence give Swiss products high added value and strong competitiveness, as well as business opportunities and global renown.
Currently, as a new round of scientific and industrial revolution surges around the world, the global manufacturing sector is undergoing profound structural changes.
How to rejuvenate the traditional sector and establish core competitiveness in the advanced manufacturing business are challenges facing all countries.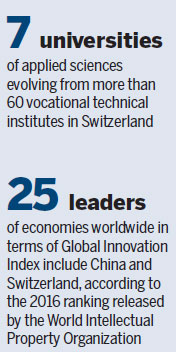 The upgrading of "Made in China" to "quality manufacturing" and "intelligent manufacturing" calls for significant progress in such areas as craftsmanship and brand building, while carrying forward the spirit of innovation.
The manufacturing industry is the main battlefield for innovation, while innovation brings new concepts, new designs and new technologies to transform and upgrade the manufacturing industry.
Innovation leads the five development notions proposed in China's 13th Five-Year Plan (2016-20). Recently, China entered the list of the world's top 25 innovative economies in the Global Innovation Index for the first time.
China's determination to explore new drivers of economic development via reform and innovation has deeply impressed Jean-Jacques de Dardel, the Swiss ambassador to China. He said that Switzerland, the world's most innovative country, has broad prospects for cooperation with China.
As early as 1989, China and Switzerland signed an agreement on scientific and technological cooperation. In 2007, Switzerland was among the first European countries to recognize China's full market economy status. In 2013, it became the first European country to sign a free trade agreement with China.
In 2016, China and Switzerland established an innovative strategic partnership, the first such partnership China established with a foreign country.
The move to further enrich and deepen China-Switzerland ties through innovation came naturally.
De Dardel said the unique innovative strategic partnership between the two countries will strengthen the docking of Switzerland's Industry 4.0 strategy with the Made in China 2025 to achieve a better win-win scenario.
(China Daily 05/15/2017 page40)