HNA Group - the parent company of China's biggest private commercial airline, Hainan Airlines - will open more international routes to serve the country's Belt and Road Initiative, according to Gao Jian, chief operating officer of HNA.
"As a participant of the Belt and Road Initiative, HNA is making investments focusing on aviation tourism, modern logistics and financial services on a global basis, and is actively promoting cultural exchanges between the East and West," said Gao.
He said HNA strives to be a strong air service provider for the Belt and Road Initiative.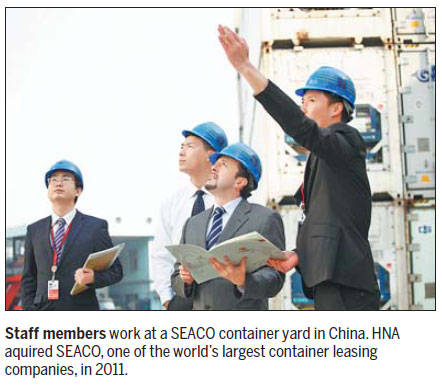 "We will coordinate with our overseas partners to open more air routes and create 'an air passage' for international interconnection."
Haikou-based HNA is operating 200 international air routes, including 14 linking to Europe and 12 connecting to North America. The group has 1,250 aircraft, running about 1,200 domestic and international flights to more than 270 cities and serving about 100 million passengers each year.
The company, ranking 353 in the 2016 Fortune Global 500 list, is increasing international routes to cope with growing market demand.
"We will do our best to provide strong support to the development of Hainan as an international tourist destination and a strategic pivot on the 21st Century Maritime Silk Road," said Gao.
Gao said the 24-year-old HNA Group is building aviation hubs in Urumqi, capital of Xinjiang Uygur autonomous region, which will serve Central Asian countries; in Fuzhou, which will serve the region's cross-Straits needs; and in Beibu Bay, which will be a hub linking China and Southeast Asia.
"HNA will accelerate cooperation with countries and regions along the initiative's routes in building logistics parks, hub airports and feeder airports, and promote tourism, trade, financial services and technological innovation," said Gao.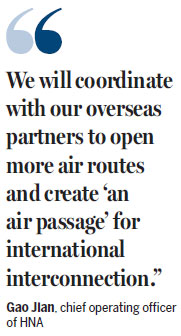 "We will promote the development of international aviation hubs in Hainan, turning Haikou and Sanya into international transfer terminals that link China with Southeast Asia and Australia."
To date, Hainan province has three airports - the Haikou Meilan International Airport, the Sanya Phoenix International Airport and Boao Airport. A new airport is under construction by HNA in Sanya at the southern tip of Hainan Island. Aviation logistics parks are being launched around these airports.
HNA is also developing domestic logistics chains in cities such as Tianjin and Xi'an. These efforts are part of its goals to establish a world-class logistics brand.
"We plan to make more investments overseas and acquire more quality resources to further internationalize our business structure and improve our services for Belt and Road regions."
By acquiring and restructuring overseas aviation companies such as Blue Eagle Airlines, Brazil Blue Airlines and Ghana Airlines, HNA is introducing advanced international air services and standards into the Chinese market. Its acquisition of world-leading container leasing companies - SEACO and Cronos - and aircraft leasing companies such as Avolon and Hong Kong Aviation Capital have added more momentum for HNA's expansion plans.
HNA's international tourism industry chain is also growing quickly, covering all six basic businesses including food, accommodation, transport, travel, shopping and entertainment.
In practicing its corporate social responsibilities, the group launched a program in 2004 that has helped more than 6,500 impoverished cataract patients worldwide with eye surgery.
mazhiping@chinadaily.com.cn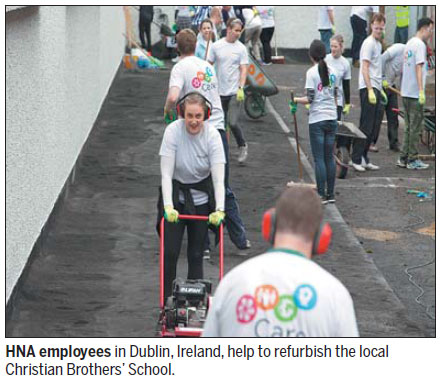 (China Daily 05/15/2017 page36)