Emphasizing the relationship between study and sale, biomedical companies thrive in innovation hub
As an important engine driving Shanghai's innovation and a key part of the city's effort in building a globally influential technological innovation hub, the Zhangjiang National Innovation Demonstration Zone is now home to many major achievements in scientific and technological research and intellectual property.
The biomedicine industry, one of the most dynamic businesses in the world, is at the heart of Shanghai's innovation progress, and the Zhangjiang zone is taking steps to establish a world-leading biomedicine industrial cluster, with a number of breakthroughs in the industry.
The biomedicine and IT industries in Zhangjiang allow the zone to access rich resources to commercialize high-end biomedicine technologies. At the same time, a big data service platform in the zone has reduced local companies' costs as they can share information.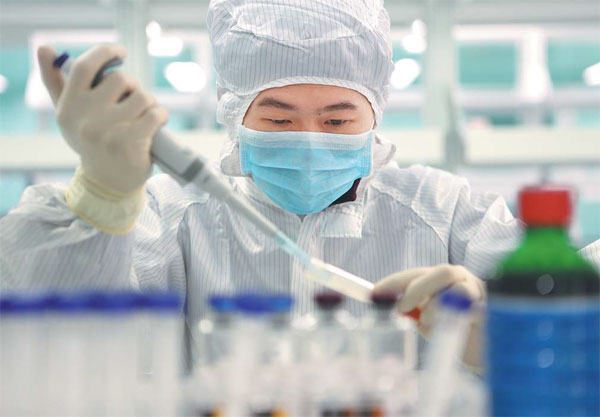 A technician performs an experiment at a biomedicine company in Zhangjiang. Photos provided to China Daily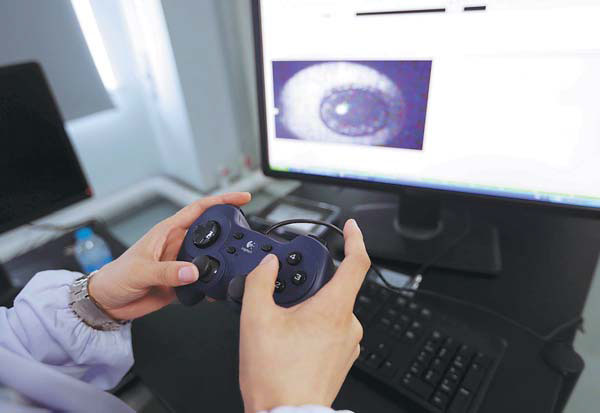 A technician uses a game console-like controller to adjust the laser target at a protein research facility in Zhangjiang.
Since 2014, the administration of the Zhangjiang zone has invested 620 million yuan ($89.8 million) to support 22 key projects through a specialized fund. Total investment to the projects is more than 1 billion yuan, with 11 of them launched during the 12th Five-Year Plan (2011-15).
A medical genome big data public service platform is being improved in accordance with international standards. It comprises three systems - a standardized clinical information and sample collecting and processing system, a multiomics research, development and application system, and a collective development system for large medical data.
Industry insiders said the three systems support each other and together form a big data center containing information on diseases, providing services for basic research, clinical use and industrial development.
The platform can be used to serve as reference for hospitals, helping them to create innovative medical service models, to provide public services for major basic research projects and new drugs' development and to offer services to medicine developers, promoting the industrialization of new products.
The platform has thus far been utilized by about 200 companies in Zhangjiang since it was launched two years ago. In that time, the zone introduced 50 overseas personnel, added 1,000 jobs and witnessed the release of 150 new products. Total sales revenue reached 240 million yuan over the period.
Based on the capsule endoscope robot production line project, which won financial support from Zhangjiang's special fund, an incubator platform for the medical robot industry has been formed.
The sector now has a production capacity of 1 million capsule endoscope robots annually, and has led to the development of a series of related businesses, with focuses including the cloud platform for digestive tract imaging and diagnosis and high-end endoscopes.
Zhangjiang's administration is building a technology-sharing service platform for medical stem cell treatment to meet the huge demand for stem cell transplant therapy in China and apply new stem cell technology to the treatment of leukemia, diabetes, neurodegenerative diseases, immune system regulation, as well as damage to the spinal cord, bones, cartilage and ovarian and uterine tissues.
The platform includes a national stem cell bank to collect, prepare and test stem cells, a vast network for effective human leukocyte antigen matching.
The stem cell technology service platform is expected to attract more talent and promote the development of regenerative medicine centering on stem cell technologies, to fortify Shanghai's leading position in the world's biomedicine sector.
The sector is also estimated to generate annual revenue of billions of yuan from stem cell preparation and storage over the next five years.
There are also platforms to facilitate industrialization of innovative medical technologies and biomedicines. They have integrated the advanced resources of many biomedicine companies in Zhangjiang, allowing them to commercialize the research achievements of local hospitals. In turn, the hospitals use the companies' innovative products.
A biomedicine industry fund will be set up to resolve innovators' challenges in financing, in addition to a series of other tailor-made financial services.
zhangzhao@chinadaily.com.cn
(China Daily 05/15/2017 page35)