Shanghai's Zhangjiang National Innovation Demonstration Zone embraced new growth in the biopharmaceutical industry last year.
2016 saw a total output value of 66.6 billion yuan ($9.66 billion) in the industry, for 6.7 percent year-on-year growth. Total sales tax reached 4.1 billion yuan, also up 6.7 percent year-on-year, and the profit of the industry grew by 12.9 percent to reach 11 billion yuan.
Enterprises in the biopharmaceutical industry in the zone have continued to rise in recent years.
At the beginning of 2016, Boehringer Ingelheim, a Germany-based, globally-leading pharmaceutical company, signed an agreement with Shanghai Zhangjiang Biotech & Pharmaceutical Base Co Ltd, marking the first project to implement the working mechanism of the contract manufacturing organization in China.
A pharmaceutical preparation center in Shanghai, Medicilon Inc, completed its CMA-approved plants, providing manufacturing and outsourcing services for medical products in the clinical trial stage.
To encourage the innovation of medicine, the Shanghai Municipal Food and Drug Administration approved new policies in August 2016 to assist research organizations and personnel in becoming licensed for commercialization.
Enterprises registered in the zone can receive risk-protection funds from the government to compensate for losses incurred during product development.
A new drug named TPN171, developed by Shanghai Institute of Materia Medica of the Chinese Academy of Sciences to treat pulmonary arterial hypertension, was approved for clinical research.
MRX-I, a new drug developed by MicuRx Pharmaceuticals Co Ltd to fight against multidrug-resistant bacteria, has entered the third stage of clinical experimentation, making it the first antibacterial drug to reach the stage in China.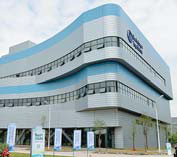 A second-generation absorbable vascular stent system developed by MicroPort, a medical apparatus and instrument company, has started examination and approval procedures through the China Food and Drug Administration.
The Pudong Zhangjiang Stem Cell Base is preparing to establish a healthcare database for the elderly using statistics obtained through following patients for more than 10 years.
A demonstration center for high risk tumor and gene testing on genetic disease was approved to be launched in Zhangjiang by the National Development and Reform Commission last year, drawing cooperation from hospitals and research institutes.
Novartis AG, a global pharmaceutical giant, invested $1 billion in its Zhangjiang innovative medicine research platform to work out a new payment mode in China.
Cao Zhenquan, deputy director of the zone's administrative committee, said that the zone will continue to optimize its industrial environment and support emerging industries in the fields of biopharmaceuticals, precision medicines and big data solutions in medicine.
(China Daily 05/15/2017 page35)