ZTE head sees big opportunities in B&R infrastructure drive
ZTE, a global leader in telecommunications and information technology, has played a significant role in supporting telecommunication systems' development in Belt and Road countries and regions over the past few years. It plans to promote an information superhighway construction project in related countries to support their long-term economic growth. Zhao Xianming, executive director and president of the company, talked about ZTE's development plans along the B&R routes.

Q: Many businesses including ZT E have been committed to developing an information superhighway along the Belt and Road countries. For those Belt and Road countries, what is the significance of such a network?
In the initial stage of China's reform and opening-up, Chinese people were told firstly to build roads if they want to be rich. I think information networks are an important type of infrastructure that can strongly support a nation's economic development. The information superhighway strategies were promoted in developed countries such as the United States and Japan in the 1990s. The US reported a significant increase in GDP and reduction in vehicle emissions in 2007, when the information superhighway's construction was completed.
Q: How do you see ZT E's role in supporting the Belt and Road Initiative?
First, ZTE is an information communication network service developer and provider in B&R countries and regions. We can provide information services to Chinese infrastructure constructors and technology businesses that are keen to explore opportunities in the overseas markets. Second, we support B&R countries' telecommunication systems' development planning and infrastructure design, with our extensive experience in telecommunication infrastructure construction. Third, our teams can support governments and Chinese businesses' digitalization strategies in B&R countries and regions.
Q: How is ZT E's information superhighway development plan progressing?
We have established complete sales and service platforms around the world, after promoting internationalization strategies for more than a decade. We have established permanent offices in 53 B&R countries. Our wireless network and cable network services have been provided in 40 and 52 countries, respectively, along the B&R routes.
We have supported three major Chinese telecommunication service providers in seizing opportunities in B&R countries. ZTE's wireless and cable networks are serving countries including India, Pakistan, Vietnam, Thailand and Turkey.
We have been engaged in communication link hiring and building, and IDC data center development projects to support the development of countries and multinational enterprises along the Belt and Road routes. For example, our total investment in Bangladesh's National Data Center exceeds $100 million.
We have also helped Tajikistan's state electricity supplier to upgrade smart electricity meters to enhance the company's management efficiency, reduce line losses and improve customers' satisfaction rates. We have also been engaged in many railway telecommunication system upgrade projects in Vietnam.
Q: Given ZTE has reported outstanding achievements along the Belt and Road, what are the key factors that support such growth?
We believe continuous research and development input and localization strategies in overseas markets are two main factors that support our growth in B&R countries and regions.
We have insisted on investing 10 percent of annual sales revenue in R&D since our founding in 1985. In 2016, our total R&D investment reached 13 billion yuan ($1.88 billion), a historical high. Overall R&D investment has reached 60 billion yuan over the past seven years.
We have seen significant growth in wireless, cable and cloud systems, as well as rapid development of enterprise and government systems in recent years. We took second place in the photo-communication industry in terms of global market occupancy rate in 2016.
Our company has long been committed to promoting localization strategies in foreign markets. We operate businesses in over 160 countries and regions. In most overseas branches, local employees account for more than 50 percent of total employee numbers. In some key countries, the proportion exceeds 80 percent. Nearly 50 percent of our annual sales revenue comes from overseas markets. Income from the United States and Europe accounts for 25 percent of the company's overall income.
Q: What kind of role does the Belt and Road Initiative play in supporting ZTE's growth?
The B&R Initiative is at its initial development stage. We think telecommunication infrastructure will play a more vital role in supporting industrial and consumption upgrade in upcoming years. The initiative provides tremendous business opportunities for China's telecommunication businesses and helps us to set clear goals for global expansion in the future.
Q: What proportion of ZTE's revenue was contributed by Belt and Road countries in 2016? What is your expectation for the future?
Our turnover from B&R count ries and regions accounts for 15 percent to 20 percent of overall annual sales revenue, which is not a big part. But, the market potential is tremendous in these countries and regions considering the large number of countries and their high populations.
The fourth-generation network and internet development in many B&R countries and regions are still at a low level. The internet of things and digitalization is only in its initial stages. On the one hand, it means opportunities for us; on the other hand, it is also our responsibility.
zhuanti@chinadaily.com.cn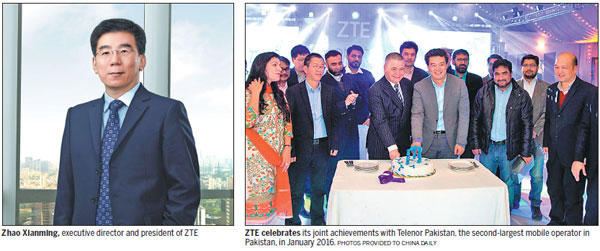 (China Daily 05/14/2017 page15)
Today's Top News
Editor's picks
Most Viewed