Schools test influence of apps with social media block program
MADISON, Wisconsin - Four public schools in the United States have blocked students' access to popular social media apps to test whether behavior, school safety and grades improve with fewer online distractions.
The pilot program in the state of Wisconsin shuts down free Wi-Fi access to apps, including Snapchat, Facebook, Instagram, Twitter and 30 others, the Wisconsin State Journal reported. The move is seen as a way to redirect impressionable students' attention to learning and away from potential dangers.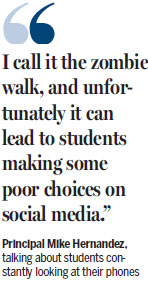 "We are looking for ways to continually improve our school climate and increase student learning," said Cindy Green, executive director of curriculum and instruction for the Madison School District. "One way to do that is by trying to reduce the use of cellphones and social apps during the school day."

Today's Top News
Editor's picks
Most Viewed