Launched by President Xi Jinping in September 2013, the Belt and Road Initiative is designed to improve global connectivity and physical infrastructure to better link China with the rest of Asia, and Europe, the Middle East and Africa. The initiative envisages the creation of multiple economic corridors under the Silk Road Economic Belt and the 21st Century Maritime Silk Road.
In the past four years, the Belt and Road Initiative has gradually gained traction with new projects and financing coming on stream, such as the flagship 418-kilometer rail link with Laos and the $46 billion China-Pakistan Economic Corridor, and the establishment of the Asian Infrastructure Investment Bank and the Silk Road Fund. While it's hard to quantify the total number of projects and amount of financing, the China Development Bank said it alone had reserved $890 billion for more than 900 projects in 2015, highlighting the magnitude of the undertaking.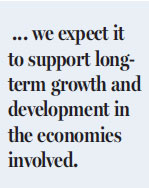 Indeed, while new multilateral institutions such as the AIIB have started to play an active role in project financing, most of the funding for the initiative's projects is actually bilateral. In addition to that from the China Development Bank and the Export-Import Bank of China, we estimate that the "big-four" State-owned banks extended $90 billion loans to the economies along the initiative's two routes in 2016. Thus, bilateral financing from China's commercial and policy banks dwarfs multilateral financing and we expect that to remain the case in the future.