Bayer aids Yunnan banana growers in fight to protect crops
Xishuangbanna, a Dai autonomous prefecture in Yunnan province, has a tropical rainforest climate. The warm and humid environment there breeds a popular tropical fruit - bananas.
Howe ver, 27-year-old local banana grower Fang Lin, who owns a 10-hectare plantation, describes banana planting these days as a "gamble".
"The price fluctuates all the time and we cannot predict when is the best time to sell our bananas," he said.
According to Fang, in 2016, the bananas from his plantation were sold at 2.5 yuan (36 cents) per kilogram on average, but the highest price in April this year was 4.8 yuan per kg.
The region's suitable natural conditions, including sufficient sunlight, fertile soil and its appropriate altitude, are very beneficial for growing bananas.
The fruit produced there are usually sweeter and are of better quality than those from other regions, bringing considerable economic benefits to the banana growers.
Bananas soon became one of the major cash crops and attracted growers from surrounding provinces and regions to plant more bananas there.
The total planting area reached about 26,667 hectares in 2011. Yunnan became the third-largest banana planting area in China, after Guangdong province and the Guangxi Zhuang autonomous region.
Efforts from companies like Bayer have contributed significantly to this growth.
Bayer Crop Science's "Much More Banana" activity was held in Xishuangbanna on April 17, during which the renowned agricultural technology company provides local banana growers with better solutions for their crops.
About 100 banana growers from nearby areas participated in the event and witnessed how Bayer's solutions can effectively enhance plant health, boost banana quality, help to increase the income of growers and improve profits. The banana growers took a tour around Jinshan Banana Plantation in the Ganlanba area of Xishuangbanna to take a firsthand look at the outcome of Bayer's input.
The healthy leaves at the top of the plant, the length of the mature fingers and the sugar content are all major factors to evaluate the quality of bananas.
Bayer also gave training on the safe and proper use of crop protection products, instructing banana growers how to not only improve their safety awareness for the crops, but to wear protective clothing and masks when spraying pesticides.
"Customer focus is one of our key principles. Bayer has worked with banana growers for a long time to ensure that they produce bananas of high quality to meet market demand," said Celina Chew, president of Bayer Group Greater China.
"This is very much in line with the focus of the Chinese government on supply-side reform in agriculture," Celina added.
Bayer has perfected its solutions over a long time, based on growers' needs and the circumstances of plant diseases and other disasters, providing help for its customers as they occur.
In recent years, a nightmarish disease wiped out a large section of the province's banana fields, causing the planting areas in Xishuangbanna to shrink significantly.
It is called the Panama disease, known as the incurable disease for bananas. It affects all banana-growing areas globally and sadly no effective cures have been found. Xishuangbanna's bananas had been widely affected too.
The pathogen is resistant to fungicide and cannot be controlled chemically.
It is transmitted through soil and water, and can be spread by people, by dirt on shoes, tires of trucks, rain and run-of water. It can live dormant in soil for about 30 years.
In view of this disease that can only be prevented but not eradicated, growers are encouraged to improve efforts to protect their crops, including disinfecting farming tools, isolating infected land and safely disposing of the dead infected plants.
liyou@chinadaily.com.cn
Sustainable farming
Bayer, a leading global innovation company in the fields of healthcare and crop science, has been committed to the sustainable growth of agriculture in China. Bayer first established a presence in China in 1882 and the company has cooperated with the Chinese government in agriculture over the past 60 years.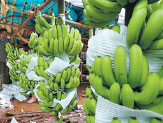 Marked with constant efforts to introduce new technologies to Chinese farmers, ranging from the recent launch of nine products in 2015 and 2016, covering rice, corn, wheat, vegetable and fruit crops, Bayer serves to provide farmers with crop protection solutions, safe use of agrichemicals and application technologies. Bayer Crop Science has also been carrying out projects in cooperation with authorities such as the Ministry of Agriculture, the Chinese Academy of Agricultural Sciences, as well as joint efforts with public partners to develop sustainable agriculture in China. As a global player, Bayer's production site in Hangzhou is not only supplying products for domestic use, but also for farmers in Asia and the Americas.
Bananas produced in Xishuangbanna are usually sweeter and are of better quality than those from other regions, bringing considerable economic benefits to the banana growers. Photos Provided To China Daily

Wang Laiqing, a farmer at the Jinshan Banana Plantation in Xishuangbanna, shares his knowledge learned from Bayer's training session with other farmers on how to grow better bananas.
(China Daily 04/25/2017 page16)
Today's Top News
Editor's picks
Most Viewed