Home built aircraft carriers a strategic need
China's first domestically built aircraft carrier, the second such vessel, will soon be commissioned, say reports. Designed to be a base for fighter jets and helicopters, the country's second aircraft carrier is the first of the Type 001A class.
The "homemade" aircraft carrier is expected to have a displacement of about 50,000 metric tons, and conventional engines and fighter jet launch systems, which are used on CNS Liaoning, China's first aircraft carrier. However, on-board fighter jets may still have to resort to ski-jump ramps instead of the more advanced catapult-assistance take-off.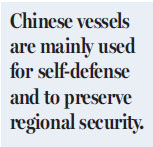 CNS Liaoning, rebuilt from a former Soviet cruiser, Admiral Kuznetsov-class carrier Varyag, is primarily used for training and research, while the new carrier will serve naval combat and defense missions, as well as non-combat missions ranging from fighting terrorism and piracy to taking part in rescue operations. Pilots and commanders for the new carrier have been trained and its equipment tested on Liaoning for future operations.

Today's Top News
Editor's picks
Most Viewed