Porsche AG is to launch three new Panamera models this year in China, with one of them tailor-made for Chinese customers, showing the German premium marque's growing commitment to its largest market worldwide.
"In 2016, we sold over 65,000 cars in China, which was an increase of 12 percent. Therefore for us, it's important to adapt to China's needs," said Oliver Blume, chairman of Porsche's executive board.
"Talking about the new Panamera Executive, for Porsche, it's a combination - not only a car that can be driven by a chaufeur, but also one you can drive yourself. This combination is tailor-made for the Chinese market and Chinese customers."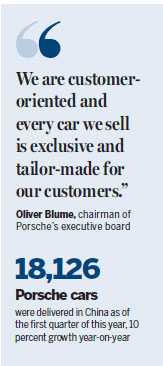 The 243 kW, 3-liter V6 turbo-engined sports sedan, to be launched in October, has a wheelbase extended by 150 mm and rear-wheel drive reserved exclusively for the Chinese market.
Porsche also made Asian premieres at the Shanghai auto show of the Panamera Sport Turismo and the Panamera Turbo S E-Hybrid Executive, the most powerful hybrid sedan in the world. They will hit the Chinese market in November and October, respectively.
The Panamera Sport Turismo, with its large tailgate, combines the brand's typical design DNA with an increased multi-use space layout.
The Panamera Turbo S E-Hybrid sports a 404 kW eight-cylinder engine and a 100-kW electric motor, enabling it to accelerate from 0 to 100 km/h in 3.5 seconds, ranking it in the top class of sports cars.
With the hybrid, Porsche makes it clear new energy vehicles will be an important part of its future development strategy.
"For the Chinese market, we will have very attractive combustion engines like the 718 or 911, and hybrid models like the Panamera or Cayenne, or the fully-electric car for the next few years," said Blume.
"In China's big cities, the majority of cars in 2025 will be electric, and we are looking forward to helping China to electrify."
But he said the change in how those models are powered will not affect their performance.
"When we build a fully-electric car, it must be a real Porsche with all the Porsche genes, very sporty to drive.
"We have won the world's famous motor race - Le Mans - twice with a hybrid engine. So we have a lot of electric technology and can transfer it to our production series."
Blume said the most important thing for a premium brand is stay on its own road.
"Everything we do at Porsche, we think about where we are coming from, so we can combine our tradition with the future.
"It's important to adapt things which are very typical to Porsche, but we won't adapt everything to Porsche cars."
He said the brand's heritage, quality, technological performance and services matter most to its customers.
"For us, it is less important to talk about volume, but more important to have very satisfied customers. So we are customer-oriented and every car we sell is exclusive and tailor-made for our customers."
Development in China
China has been Porsche's largest market worldwide since 2015. And Porsche China has delivered 18,126 units of new cars as of the first quarter of this year, which is 10 percent growth year-on-year. To better adapt itself to the increasingly competitive segment, the brand has optimized the model line up in the country, introducing sports cars of excellent performance and extraordinary efficiency.
At present, Porsche has launched 13 Panamera models in China, which are currently available to order at 98 Porsche centers.
The marque announced the establishment of Porsche Club China at the Shanghai auto show. Organized by Porsche China, the club already has more than 250 members.
It provides a platform for Porsche car owners in the country to connect and share their passion for the marque, as well as to access Porsche-exclusive offers and events.
The Porsche Carrera Cup Asia has attracted teams and spectators for 15 seasons. This year, 26 starters from 10 nations are expected.
Porsche has also unveiled a club called Motorsport Asia Pacific as a result of people's growing interest in the sport.
Beyond the club, Blume said Porsche is building an experience center in Shanghai.
He said the move is to introduce into China the success of Porsche experience centers in Europe and the US.
"So our customers will be able to test their own cars, or new customers will have the opportunity to go on the race track to enjoy a situation with their cars they will not experience on a normal road."
lifusheng@chinadaily.com.cn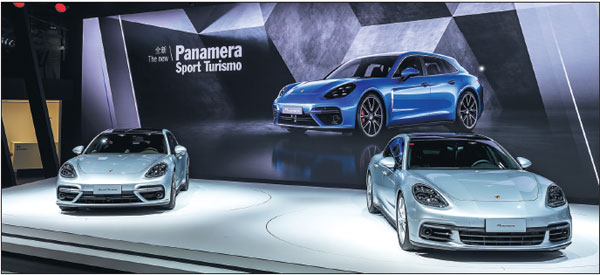 Porsche displays new models at the ongoing Shanghai auto show, including the Panamera Sport Turismo (left) and Panamera Executive.Photos Provided To China Daily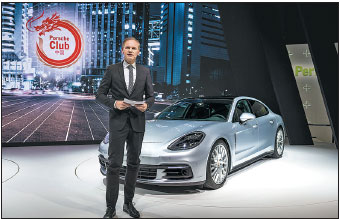 Oliver Blume, chairman of Porsche's executive board, speaks at the Shanghai auto show on Wednesday.
(China Daily 04/21/2017 page7)