Adaptability, ambition, social responsibility set group apart
ZF Friedrichshafen AG, the German developer of driveline and chassis technology, and active and passive safety technology, will continue to extend its footprint in China to serve the future mobility market.
"Over the next several years, looking out through to 2025, it is our ambition to grow most strongly in the Asia-Pacific region," said Peter Lake, a member of ZF's board of management. "Having a balanced market penetration globally is going to be an important focus for us and an important driver for our long-term growth.
"As the largest market in the Asia-Pacific region, China will play a key role in that respect," he said.
ZF saw overall sales revenue in China reach 6 billion euros ($6.39 billion) in 2016, accounting for 77.9 percent of sales revenue in the Asia-Pacific region. Employee numbers in China reached 13,700 in 2016, about 10 percent of ZF's global workforce.
By the end of 2016, China was the third-largest market for ZF in terms of sales revenue, after the United States and Germany, Lake said.

ZF believes that fuel-efficiency, safety and autonomous driving, which are three megatrends identified by ZF for the global auto industry by 2025, will play significant roles in driving ZF's development in China.
"In the future, we see that our growth in China will be driven by the three megatrends," he said. "China is no different to any other global region in terms of megatrends that are driving demand and potential for our products."
Lake revealed that ZF has been taking measures to accelerate localization in recent years to better support local customers and explore economies of scale.
He said that the total investments in infrastructure, including research and development centers and manufacturing facilities, reached over $1.3 billion over the last five years.
"China, in many ways, is a mature market," Lake said. "It is the biggest market in the world in terms of manufacturing and it is a very sophisticated market in terms of technologies being developed and introduced on vehicles."
"If companies are going to be truly competitive, they not only have to engineer locally, but also manufacture and source at least a vast majority of materials and components locally."
ZF opens development center in Shanghai
ZF China's newly extended engineering center in Shanghai, with a total investment of 50 million euros, was opened on April 18. The new facility, which occupies 52,000 square meters, will significantly increase ZF China's engineering service capacity and capability and keep the company at the forefront of future development.
The extended center will help ZF China to be more responsive to local customers, Lake said.
Global parts makers are betting on the China market and are keen on investing more in the Chinese market, the most prosperous auto market in the world. Almost all auto parts makers have launched operations and research and development in China.
ZF, which launched operations in China in 1981, is optimistic about development here, though competition is heating up year by year.
"With regards to China, it is a very competitive market but the attitude that companies should have is that competition is good," Lake said. "It is good for both customers and suppliers."
"As a supplier, we have to have a healthy paranoia, we have to be concerned that the competitors are doing something better or faster than we are, and it drives us in the desire to be better and more innovative than other businesses."
Last year, China achieved economic growth of 6.7 percent year-on-year, and Premier Li Keqiang has announced this year's growth target will be about 6.5 percent.
For ZF, China remains an ideal investment destination compared to other regions in the world amid the slowing down of global economic growth.
"We factored into our planning what people called the 'new normal' in China," Lake said. "Our plan does not assume that the growth rate of 10 percent of the past can be maintained. But from my perspective, and from the perspectives of many sitting in regions where GDP growth is significantly less than what you are experiencing in China, it looks to be an attractive growth rate and one that would attract investment for the future."
tangzhihao@chinadaily.com.cn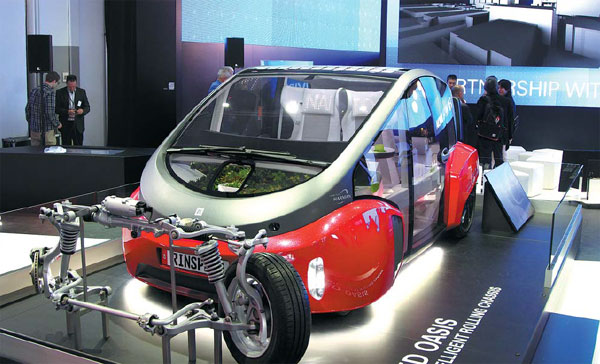 ZF introduces its vision of the future of urban mobility by unveiling the Oasis concept car at the North American International Auto Show in Detroit in January. Photos Provided To China Daily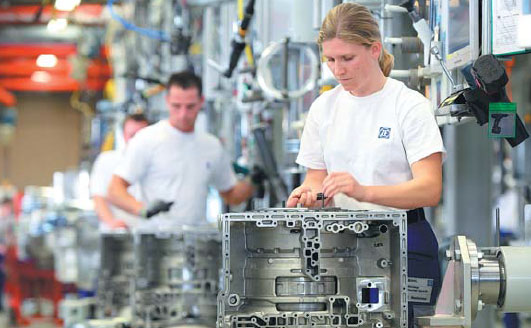 Workers assemble commercial vehicle transmissions at ZF's plant in Friedrichshafen, Germany.
(China Daily 04/21/2017 page24)