ZF, the German automotive component and system developer, is keen to create partnerships with more technology businesses to keep it one step ahead of the competition.
"We are facing dramatic industry changes," said Peter Lake, a member of ZF's board of management. "We cannot be the dinosaur. Companies have to respond to market trends."
Lake believes that partnerships allow ZF access to significant future technologies outside the company and also allow partners to bring intelligence to the automotive environment.
"It's a good balance and a win-win for both partners," he said.
ZF has joined hands with many technology-driven companies, including German lidar system developer Ibeo, in order to strengthen its sensor portfolio. Such partnerships can help to generate tangible and intangible benefits for ZF so the group is able to more effectively serve the megatrends of automated driving, safety and efficiency.
The acquisition of TRW, which became ZF's Active and Passive Safety Technology Division immediately after the deal completed on May 15, 2015, has been considered a milestone in ZF's strategy.
The move not only created "hard synergies" such as technology collaboration, but also created "soft synergies" for ZF, Lake said.
"It is important to say that by bringing the businesses together and creating what is a top-three automotive supplier globally, we perhaps are more attractive - not only for our customers but also for partners in the industry," Lake said.
ZF established a wholly owned venture capital company, named Zukunft Ventures GmbH in October 2016 to effectively identify and invest in start-ups and well-established companies that are involved in developing technologies that could be relevant for ZF.
"Zukunft Ventures will help us fill technological gaps faster and tap into new business segments," said Stefan Sommer, ZF's CEO.
ZF has gained access to all of the available technologies needed for autonomous driving in passenger cars and commercial vehicles, according to Sommer.
"To secure this position and develop it in the long term, we need to access innovative technologies quickly," said Sommer. "Zukunft Ventures is a flexible and quick tool that enables companies to keep up with the pace of innovation."
Zukunft, which is looking at companies worldwide, has supported several deals since its establishment.
Last month, it supported ZF to acquire approximately 45 percent of the shares in Astyx Communication & Sensors GmbH, a German developer of ultrahigh-frequency radar sensors and modules, to jointly develop the next generation of radar technology.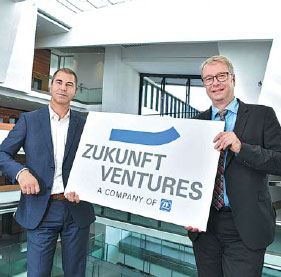 Zukunft Ventures, established by ZF in October 2016 to identify and invest in start-ups and well-established tech companies.
(China Daily 04/21/2017 page24)