GAC Motor, a subsidiary of Guangzhou Automobile Group, has been rapidly expanding its presence in domestic and overseas markets in recent years as part of its strategy to develop into a world-class carmaker.
"We are building a world-class system in terms of production, sales and technological research and development, which will ensure high quality and design for our products," said Yu Jun, general manager of GAC Motor.
Yu made the remarks on Wednesday as the company unveiled six innovative new vehicles for the domestic market at the 17th Shanghai International Automobile Industry Exhibition, or Auto Shanghai.
The new models include GAC Motor's first electric vehicle, the GE3, its SUV GS7, the latest version of the GA8, the EnSpirit concept car, the GS4 PHEV and the GA3S PHEV.
GAC Motor, based in Guangzhou, the capital of Guangdong province, has achieved dramatic market growth since it was established in 2008.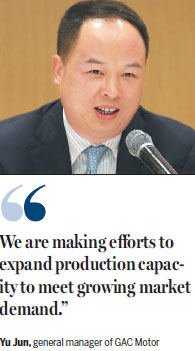 The company sold more than 380,000 vehicles in 2016, a year-on-year increase of 96 percent. It has achieved a more than 80 percent average compound annual growth rate for six consecutive years, from 2011 to 2016.
In the first three months of 2017 alone, the sales of GAC Motor's vehicles grew by 68 percent year-on-year to 121,000 units, according to the company.
GAC Motor plans to launch nine varieties of cars in 2017, with the aim of optimizing its product structure.
The company is currently building new processing facilities in the Xinjiang Uyghur autonomous region and in Yichang of Hubei province, and upgrading a factory in Hangzhou, Zhejiang province.
"We are making efforts to expand production capacity to meet growing market demand," Yu said.
The company expects to sell 500,000 cars in 2017 and plans to produce 1 million cars in 2020. According to Yu, GAC Motor is also positioning itself to bring its high-quality cars to the international market, after establishing sales and service networks in 14 countries and regions in the Middle East, Southeast Asia, Eastern Europe, Africa and North America.
"We will launch the star models of GA8 and GS8 to overseas markets, providing high-quality products and services for international consumers," Yu said. GAC Motor's high-end sedan GA8 and the seven-seat SUV GS8 have both seen market growth since they were launched last year. Sales of the GS8 surpassed 10,000 units in March, making it one of the fastest-growing SUV models in the Chinese market.
The company has already set up an R&D center in North America, which will act as a key growth engine in its international market strategy, according to Yu. The company's North American R&D center will be responsible for talent cultivation and advanced technology, helping the company to achieve further global outreach, Yu said. "Our best-value cars will enter the North American market no later than 2019, after we complete market surveys, obtain local certification and regulation and communicate with potential dealers," he said.
GAC Motor also signed strategic agreements with 10 international auto parts suppliers on Wednesday in Shanghai.
"By adhering to high international standards in product quality and establishing world-class car manufacturing systems, we will continue to bring our brand to more consumers globally with new products and services," Yu said.
qiuquanlin@chinadaily.com.cn
New Arrivals
GS7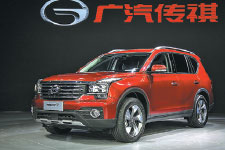 GAC Motor's new five-seat SUV GS7 is a high-power vehicle with intelligent technology created for consumers looking for fashionable design and a carefree riding experience. Powered by the company's brand new G-Series 2.0T engine, the new SUV model, following the launch of the seven-seat SUV GS8 last year, reaches 0-100 kilometers per hour in 9.5 seconds, while ensuring sportiness and maximizing the vehicle's performance.
GA8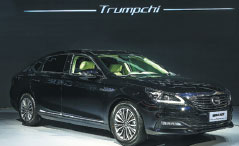 The GA8 2017 has a dynamic exterior design, a comfortable cabin, precise driving and vehicle control combined with the latest smart technologies to accommodate people's growing needs for comfortable, powerful and green mobility. The new edition features more than 30 optimizations and upgrades, including the addition of the new 280T engine, xenon headlights, air purifier and more to present the ultimate travel experience.
GE3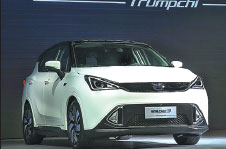 The GE3 is one of the four new-energy varieties at the Shanghai auto show. With a clean "low-poly" design, the model is the first electric vehicle developed on GAC Motor's new energy platform, aiming to deliver an environmentally friendly and intelligent driving experience. The GE3 brings new possibilities in future mobility, with fast and convenient charging service and the longest travel distance of 310 km for a single full charge.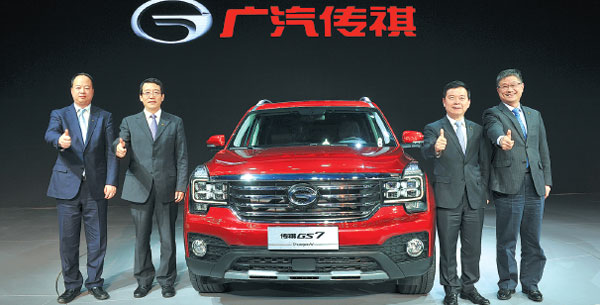 Senior executives of GAC Motor attend the unveiling ceremony for the GS7 in the Shanghai auto show. Photos Provided To China Daily
(China Daily 04/21/2017 page14)