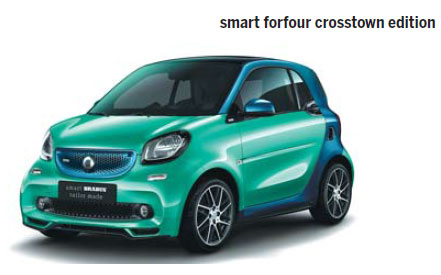 As a sub-brand of Mercedes, the smart brand has introduced several new family members in Shanghai this year. Chief among these was the All New smart Brabus tailor made, which officially launched at the event.
With 40 different paint colors and a sporty, tailored exterior styling package, the Brabus tailor made allows creative customers unlimited customization options according to their own imagination and preferences
With an exterior styling package that consists of a Brabus front spoiler, side skirts, roof spoiler, Brabus rear diffuser and other components, the vehicle exudes an extra level of dynamism.
Complementing the smart Brabus tailor made's striking exterior is its contemporary interior, which offers a choice of 42 leather colors and 31 topstitching colors, covering the leather seats, dashboard, steering wheel and door trims, in addition to four topstitching patterns.
This abundance of expressive interior options allows for unlimited individual customization at will.
Also making an appearance were the smart crosstown and sapphire blue editions, which held their market premieres at the event.
The smart forfour crosstown edition brings SUV flavor to delight forfour customers, with an urban style package that enhances the vehicle's performance characteristics and a crosstown package that delivers an even cooler experience with a full range of chrome surrounds, to give the vehicle a stronger, sportier visual effect.
The sapphire blue edition nicely renders the light premium positioning of the smart brand, with U-shaped LED daytime running lamps and LED taillights giving the vehicle a spirited look and a bespoke interior characterized by black fabric covering the dashboard, black leather seats, and multimedia system with a 7-inch touch screen.
The overall effect creates an enhanced, comfortable and practical driving experience.
The sapphire blue edition is a low-key and uniquely enjoyable addition to the smart family.
China has become one of the most important markets for smart. To meet the individual needs of smart fans, the brand plans to bring more special editions to Chinese consumers every quarter of this year.
(China Daily 04/19/2017 page23)