Local government supports blockchain's development
Guizhou plans to corner the market through early adoption of cutting-edge financial technology
Guizhou province is pioneering China's efforts to experiment with blockchain technology, following the inland region's continuous steps to promote big data industries.
Guiyang, capital of the southwestern province, rolled out a white paper in December, highlighting and outlining its ambition to leverage the blockchain to optimize governance, boost economic growth and enhance people's livelihood in the coming years.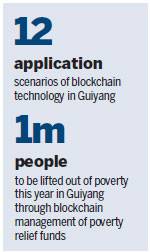 The blockchain allows participants to track items or transactions on a shared digital "ledger", where any new transaction will be added at the end of the chain and all records are error-free and impossible to be tampered with.
Chen Gang, Party secretary of Guiyang, said the technology, which is behind the phenomenal popularity of the digital currency bitcoin, has far more potential beyond the finance sector.
"Blockchain technology is applicable in almost every type of business. It enables us to pass credit and value in a far better and efficient way," Chen said.
"Many blockchain enterprises are technologically strong, but find it hard to access appropriate application scenarios, just like a hammer looking for a proper nail to hit. We want to solve that," he added.
The inland city is building platforms to test the application of blockchain technology, including sub-platforms to pilot products.
Currently there are 12 application scenarios in Guiyang, including how to utilize the blockchain to further open government data, regulate internet finance, optimize supply chain management and offer smart transportation services.
Yang Dong, an initiator of Blockchain Joint Development Organization, which is dedicated to promoting blockchain technology in China, said compared with developed regions, Guizhou is relatively backward in economic growth, but that's exactly its strength in embracing new technologies.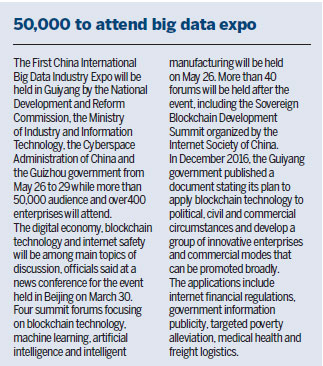 "Local officials go all in for big data and blockchain sectors. The central government is giving strong support.
"The beautiful environment, relatively low housing and electricity costs are also attracting blockchain companies to settle in Guiyang," Yang, also a law professor at Renmin University of China, said in a forum earlier this year.
In fact, the city is already using the technology to manage its poverty relief fund, as part of Guizhou's broad plan to lift another 1 million people out of poverty this year and to call for targeted measures to ensure that assistance reaches poverty-stricken villages and households.
With the help of big data, people can identify those living in poverty, but it can't help accurately monitor the use of poverty-relief funds, therefore local officials rely on blockchain technology to better implement poverty alleviation measures, experts said.
Duan Xinxing, vice-president of OKCoin, an exchange platform for bitcoin, said that Guiyang is among the first group of cities to aggressively promote big data industries.
"Local officials have garnered experience in helping enterprises to realize their potential. If Guiyang can lure in more blockchain experts, it will gain the advantages of being an early adopter," said Duan.
The view is echoed by Yang from the Blockchain Joint Development Organization, which set up a headquarters in Guiyang last year.
"The lack of blockchain experts is the most pressing problem. More efforts are also needed to cultivate local professionals," Yang said.
Fortunately, the local government is moving swiftly in that direction.
A vocational college was unveiled in March, which aims to cultivate about 2,000 people to work in the blockchain industry this year.
By partnering with premier universities, the institution hopes to nurture blockchain IT system architects, engineers and testing programmers.
The Guiyang Crowdfunding Finance Exchange, an organization promoting the application of blockchain technology, also teamed up with the Shenzhen-based Puer Back Blockchain Group to build a platform to trade blockchain related digital assets.
Ouyang Shijia contributed to this story.
Contact the writers at masi@chinadaily.com.cn and yangjun@chinadaily.com.cn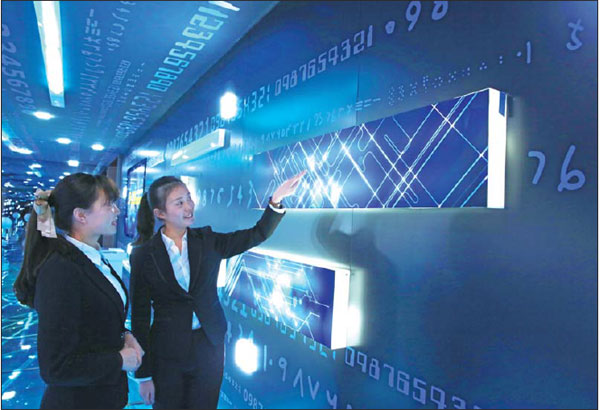 Staff explain the future plans for big data industries in Guiyang at the city's big data exhibition center.Chen Hui / For China Daily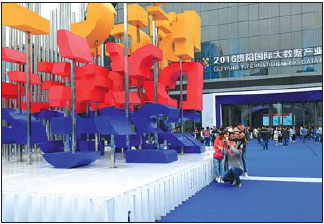 A colorful data sculpture catches visitors' eyes at the Guiyang International Big Data Expo last year.Yang Jun / China Daily
(China Daily 04/14/2017 page12)
Today's Top News
Editor's picks
Most Viewed