Golden Stand, JD join forces to improve asset management system
To better protect trading information, Guiyang Golden Stand Financial Technology in Guizhou province is cooperating with JD Finance this month to apply blockchain technology to a new asset management system.
The new system will better serve the institutions and individuals in the industrial chain of asset backed securitization, including securities brokers, trusts, accountants and lawyers, said Wang Kang, co-founder of the company.
"Blockchain creates a public account ledger for participants in ABS with a complete, transparent and traceable data base," said Wang.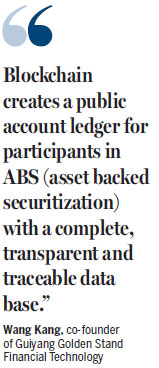 "It can protect the information involved from being forged or tampered with and automatically conducts transactions without approval from any intermediary agencies."
Founded in 2015, the company received 10 million yuan ($1.45 million) in investment from JD Finance, a subsidiary of China's leading e-commerce platform JD.com, to further back up the development of the asset backed securitization system.
Since its foundation, the company has served major domestic financial institutions, including China Minsheng Bank, China Merchants Securities and China Resources Trust.
Planet Miners, a mobile game launched by the company and China Minsheng Bank, is the first of its kind to popularize basic knowledge of blockchain technology among the public.
Planets of different colors represent the network nodes of the blockchain and the trading record during the game symbolizes the public account ledger, available to check and forbidden to tamper with, Wang said.
The company established a cloud services platform for China Minsheng Bank incorporating blockchain technology, through which about 100,000 online transactions can be dealt with each night.
"The blockchain can significantly change the traditional modes of trading, clearing, risk control and supervision among financial institutions," Wang said.
"However there are still technological limits, such as long response time, which will take several years to improve."
Wang said the company is based in Beijing, Shanghai, Shenzhen and Guiyang, and has established cooperation agreements with Guiyang Bank and the biggest securities broker in Guiyang, Huachuang Securities.
"Guiyang has strength in developing the blockchain thanks to its natural environment," he said.
"The company can fit well in a city where big data plays an important role in its development."
Tang Zhenjiang, director of Guiyang Big Data Development and Management Committee, said financial systems based on the blockchain could decrease costs in trading, increase efficiency in payment and meet customers' demands for the recording and supervision of data.
"It is a reconstruction of big data. The blockchain will be the new engine of the digital and shared economy due to its P2P transactions," Tang said.
Contact the writers at chenmeiling@chinadaily.com.cn and yangjun@chinadaily.com.cn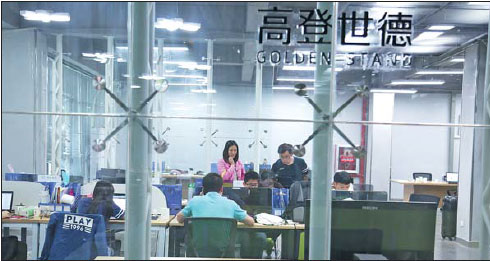 Data experts resolve technical issues at the Guiyang Golden Stand Financial Technology.Yang Jun / China Daily
(China Daily 04/14/2017 page12)
Today's Top News
Editor's picks
Most Viewed