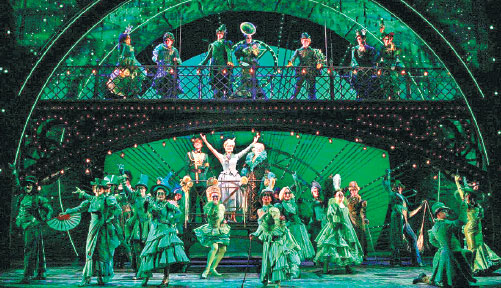 Broadway Musicals Wicked in Shanghai
Date: April 11-May 10 - 7:15 pm
Venue: Shanghai Culture Square
Price: 80-780 yuan
An international company of over 70 cast, crew and musicians will travel to China, with an additional 20 local crew and 7 musicians hired in Shanghai. This "eye-poppingly lavish show" includes 300 award-winning costumes, spectacular scenery, lighting and projections and a dazzling array of technical wizardry. Based on the international best-selling novel by Gregory Maguire that ingeniously re-imagines the stories and characters created by L. Frank Baum in The Wonderful Wizard of Oz, Wicked tells the incredible untold story of an unlikely but profound friendship between two sorcery students. Their extraordinary adventures in Oz will ultimately see them fulfill their destinies as Glinda the Good and the Wicked Witch of the West.

Gabriela Montero Piano Recital
Date: April 22 - 7:30 pm
Venue: National Center for the Performing Arts
Price: 100-200 yuan
Gabriela Montero's visionary interpretations and unique improvisational gifts have won her a devoted following around the world. Anthony Tommasini remarked in The New York Times, "Montero's playing has everything: crackling rhythmic brio, subtle shadings, steely power in climactic moments, soulful lyricism in the ruminative passages and, best of all, unsentimental expressivity."

Harp Recital by Xavier de Maistre 2017 in Shenzhen
Date: April 8 - 8 pm
Venue: Shenzhen Concert Hall
Price: 80-880 yuan
Xavier de Maistre was born in Toulon and began to study harp at 9. He finished his studies with Catherine Michel and Jacqueline Borot in Paris. In 1998 he was awarded the first prize at the prestigious International Harp Competition in Bloomington, Indiana. He immediately became the first French musician to join the ranks of the prestigious Vienna Philharmonic Orchestra - a position which he left in summer 2010. Ma Vlast with breathtaking precision, presenting masterful arrangements of works that are usually played by an entire orchestra. The interpretation of these works, that few harpists before him have even considered playing, has contributed to his reputation as one of the most creative and extraordinary musicians of his generation.

NCPA Drama Jane Eyre (Chinese Version)
Date: April 13-19 - 7:30 pm
Venue: National Center for the Performing Arts
Price: 200-880 yuan
In June 2009, Jane Eyre pioneered by NCPA was staged for the first time, and this was also the first interpretation of Charlotte Bronte's classical novel of the same name on the stage of drama in China. Wang Xiaoying and Yu Rongjun served as the stage director and the playwright respectively. Ever since its debut in 2009, this drama version of Jane Eyre has been performed many times at NCPA and other theaters and has toured in such cities as Shanghai, Chongqing, Ningbo, Hangzhou and Fuzhou province. Three actresses - Yuan Quan, Chen Shu and Zhu Jie - have dedicated themselves to the performance, presenting this elegant and independent English lady for the audience.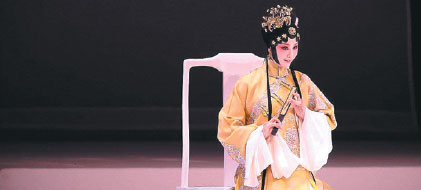 Beijing Kunqu Opera - Two Belles in Love
Date: April 8-29 - 7:30 pm every Saturday
Venue: Zhengyici Theater
Price: 280-880 yuan
Two Belles in Love is a lesbian-themed Chinese opera based on a 350-year-old play by Li Yu. The 2010 production was headed by Stanley Kwan, the first openly gay film director in the Chinese cinema scene. The premiere marked a shift in representations of homosexuality in contemporary China which did not remove homosexuality from the list of official mental illnesses until 2001. Publicity for the production plastered the city with imagistic challenges to the heteronormative visual landscape. The premier coincided a wider trend reviving the practice of male performers portraying female roles, discouraged since Communist victory in 1949. I analyze the production and its reception as examples of Chinese opera receiving comparatively more official and cultural leeway than other modes of cultural production to portray sexual diversity on the post-Mao Chinese stage.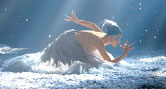 Yang Liping Ballet - Peacock of Winter
Date: April 13-15 - 7:30 p.m.
Venue: Hangzhou Theater
Price: 280-1,680 yuan
The dance drama Peacock is created and directed by Chinese famous choreographer and dancer Yang Liping. Since the debut of the drama in 2012, Peacock has been staged for hundreds of times at home and abroad. The peacock in the drama is not only a bird, but also a person and a member of sentient beings. The Peacock is in four parts titled Spring, Summer, Autumn and Winter respectively to symbolize life's journey reflecting a story about growth, human nature and love. The characters in the drama embody the different levels of human nature, brightness & awareness, love & devotion, obsession & being lost, and fear & vanity. The story is about peacock as well as human nature, and it also a parable about life.
(China Daily 04/08/2017 page20)