Shaanxi FTZ looks to explore models of foreign cooperation
Aims to build on high-tech counterparts' experience in supporting businesses' success
The China (Shaanxi) Pilot Free Trade Zone was unveiled on Saturday, a move that is set to facilitate economic and cultural cooperation with countries and regions involved in the Belt and Road Initiative, local officials said.
The initiative refers to a strategy proposed by President Xi Jinping in 2013 to increase international cooperation via the construction of the Silk Road Economic Belt and the 21st Century Maritime Silk Road
The pilot zone, which covers a total area of almost 120 kilometers in Northwest China's Shaanxi province, is one of seven new FTZs approved by the State Council.
Together with existing zones in Shanghai and Tianjin municipalities and Fujian and Guangdong provinces, the new zones in Liaoning, Zhejiang, Henan, Hubei, Sichuan and Shaanxi provinces as well as Chongqing municipality are designed to raise China's opening-up to new heights.
"Exploring a new model of economic cooperation and people-to-people exchanges will be the distinguishing feature of the Shaanxi pilot free trade zone," said Li Shengrong, deputy head of the Shaanxi Provincial Department of Commerce.
Li put an emphasis on innovative cooperation in connectivity, international production capacity and modern agriculture.
The only FTZ in Northwest China, it will prioritize collaborations in technology, education, culture, tourism and healthcare, he said.
Li Yi, Party chief of the Xi'an Hi-tech Industries Development Zone, said: "The high-tech zone is embracing golden strategic opportunities for development."
Yang Renhua, deputy head of the administrative committee of the Xi'an zone, said: "Serving as the core part of the Shaanxi pilot zone will advance the innovation and development of the Xi'an high-tech zone."
With less than one eighth of the total area of Xi'an, capital of Shaanxi province, the Xi'an high-tech zone contributed 13 percent of the city's GDP and 3.8 percent of the province's.
A host of high-tech companies have established a presence in the Xi'an zone, including telecommunication giants Huawei Technologies and ZTE, South Korean electronics manufacturer Samsung, United States chip maker Micron Technology, automaker BYD and Shaanxi Fast Auto Drive Group, a heavy-duty auto transmission and gear maker.
Their breakthroughs in key technologies have helped the local economy to sharpen its competitive edge in the international market, pushing the industries in western China up the global value chain.
Government data show the high-tech zone generated approximately 1.37 trillion yuan ($198.60 billion) in business revenue in 2016. The figure was projected to reach 2.5 trillion yuan in 2021 and 5 trillion yuan in 2025, according the zone's development blueprint.
The zone was home to more than 1,180 foreign-invested enterprises as of the end of last year, accounting for nearly half of the city's total. Of them, 170 were funded by Fortune Global 500 companies.
The foreign-funded companies in the zone generated 110 billion yuan in annual business revenue, paid 5 billion yuan in taxes and created 90,000 jobs last year. Their exports surpassed 151.76 billion yuan, accounting for 83.05 percent of the city's total and 76.9 percent of the province's.
The zone's trade in high-tech products and modern services extended to Europe, the United States, South America, the Middle East, Africa, Japan and South Korea, as well as other Belt and Road countries and regions as of the end of 2016.
The exports included chips, smart phones, biopharmaceuticals and energy machinery, as well as creative design and software information services.
Revolving around the eight pillar sectors of semiconductors, smart terminals, advanced machinery, biopharmaceuticals, finance, software information services, military-civil integrated industries and innovative startups, the zone looks to attract globally recognized companies and leading teams.
To this end, it is improving its infrastructure, streamlining administrative procedures, helping to reduce operating costs and creating a business-friendly environment.
Currently, the Xi'an zone has drawn some 1,270 financial institutes and facilities. It is home to more than 60 national and provincial headquarters of financial institutes. Nine of Shaanxi's banks specializing in technological finance established branches in the zone.
Financial service providers have helped 129 companies in the zone to be listed abroad.
The Xi'an zone ranked fourth among 146 national high-tech zones in terms of comprehensive competitiveness in 2016, according to the Ministry of Science and Technology.
"After learning from the practice of the Shanghai pilot free trade zone, the Xi'an zone serves as the core area of the Shaanxi pilot zone with its own innovation," said Xing Xin, deputy director of the high-tech zone's administrative committee.
"The mode of combining imitation and innovation is, in essence, a revolution in thinking, which requires that the zone's government increase efficiency in administrative services," Xing said.
"We will go all out to enhance innovation in systems, make full use of the market's role, build a business-friendly environment in line with international standards and develop the high-tech zone into a bridgehead for Chinese companies becoming internationalized."
zhuanti@chinadaily.com.cn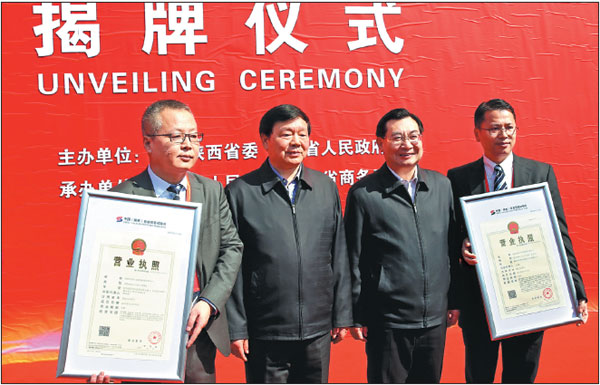 Lou Qinjian (second from left), Party chief of Shaanxi, and Hu Heping (third from left), governor of the province, attend the inauguration ceremony of the China (Shaanxi) Pilot Free Trade Zone on Saturday.Huo Yan / China Daily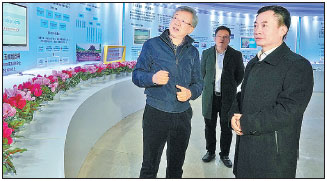 Li Yi (right), Party chief of the Xi'an Hi-tech Industries Development Zone, visits the Xi'an Institute of Optics and Precision Mechanics to learn about its technologies.Gao Jie / For China Daily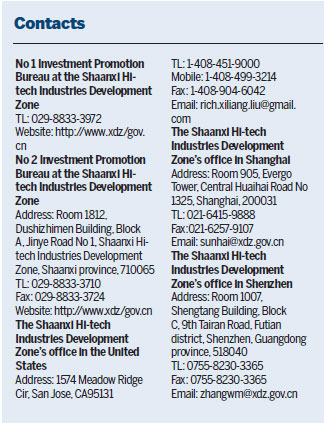 (China Daily 04/06/2017 page7)
Today's Top News
Editor's picks
Most Viewed