CMIG teams up for Belt and Road investments
China Minsheng Investment Group, one of China's biggest private investment companies, has made outstanding achievements in serving national strategies such as the Belt and Road Initiative and development of the private economy, according to the company.
The Belt and Road Initiative refers to a strategy proposed by President Xi Jinping in 2013 for increased international cooperation via the Silk Road Economic Belt and the 21st Century Maritime Silk Road.
Dong Wenbiao, chairman of the board at CMIG, said the group has made efforts to promote the Belt and Road strategy since its foundation in Shanghai in 2014.
The company has been working to integrate itself into the strategy, founding a global advisory council of world-renowned politicians and economists.
The council held its third conference in Shanghai in October 2016 and among the discussion topics were opportunities brought about by the Belt and Road Initiative.
Former Prime Minister of Pakistan Shaukat Aziz, a member of the council, said that when global economy experiences ups and downs, the initiative promoted by China will bring many opportunities, Global Times reported.
Currently almost all large construction projects in Pakistan are contracted by Chinese companies, with positive development prospects in the country, Aziz said.
Dong said at the conference that the Belt and Road Initiative offers extensive space for Chinese companies to cooperate with global enterprises in a wider range of fields. Private companies including CMIG will make full use of national policies for continuous growth, he said.
CMIG also hosted a Sino-Cambodian entrepreneur forum in Cambodia last year, Dong said, adding that Cambodian Prime Minister Hun Sen joined more than 100 Chinese companies at the event.
Li Huaizhen, president of CMIG, said that integrating into the Belt and Road strategy should be a long-term plan with a lasting and sustainable vision and that his company will make the Sino-Cambodian entrepreneur forum a regular feature.
The forum offer s an opportunity for Chinese private businesspeople and Cambodian entrepreneurs to network and discuss Cambodian investment policies and prospects to further their mutual understanding and establish cooperative opportunities, Li said.
CMIG also set up a Belt and Road industrial fund in Cambodia in late 2016 and will strengthen cooperation in such fields as new energy, finance and urban development in the country.
The company will learn from past successful investments and lead more Chinese companies to develop in the Cambodian market, Li said.
Dong said CMIG stands behind the Belt and Road strategy and that the company's mission is to facilitate Chinese businesses developing overseas.
CMIG announced i n March 2015 that it, along with several leading Chinese private enterprises, would invest $5 billion in building an industrial park in Indonesia.
"CMIG will use its brand advantage to contact local government, help Chinese companies to get financing internationally and construct the park in the shortest time," Dong said.
He suggested the central government have a Belt and Road industry planning catalog to promote companies and products overseas.
CMIG was jointly established by 60 private companies and initiated by the All-China Federation of Industry and Commerce.
"I am full of confidence in the company's development as it not only combines resources of 60 enterprises but also integrates the wisdom of the company's excellent entrepreneurs," Dong said.
Economic development has entered an era of sharing, he said, and, if companies still try to go it alone, it will be difficult for them to stand out amid fierce market competition,
Li said that developing as a group is currently a necessary trend for the Chinese private economy. Some provincial-level investment companies have been founded by multiple local private businesses since the establishment of CMIG.
It is a demonstration of the CMIG model, gathering private companies to develop together, Li said, adding that on the road to group development, CMIG is becoming more confident in its bright prospects.
songmengxing@chinadaily.com.cn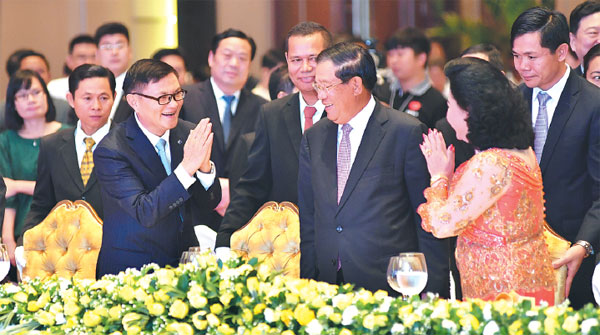 China Minsheng Investment Group hosts a Sino-Cambodian entrepreneurship forum in Cambodia in 2016. Photos Provided To China Daily
(China Daily 03/24/2017 page15)
Today's Top News
Editor's picks
Most Viewed