Announcement comes as ministers hold security meeting in Tokyo
TOKYO - Japanese Prime Minister Shinzo Abe will visit Russia in late April for a summit with President Vladimir Putin, Foreign Minister Fumio Kishida said on Monday.
Abe has pledged to resolve a decades-old territorial dispute with Russia over a string of western Pacific islands, which came under Russia's control at the end of World War II, in the hope of building better ties.
The feud has precluded a formal peace treaty between the two countries.
The announcement of Abe's visit came as senior Japanese officials met with their Russian counterparts in Tokyo for talks.
During the wide-ranging discussion, Russia criticized the deployment of a United States anti-missile system aimed at the Democratic People's Republic of Korea, saying it poses "serious risks" to the region.
The United States this month began installing the THAAD anti-missile system in the Republic of Korea that it says is for purely defensive purposes, but Beijing and Moscow have criticized the move.
"We drew attention to the serious risks posed by the deployment of elements of the American global anti-missile system in the Asia-Pacific region," Foreign Minister Sergei Lavrov told a press conference, saying Moscow raised the issue in the talks.
"If this is meant to counter threats coming from North Korea, then the deployment of this system and accumulating armaments in the region is a disproportionate reply," he added, apparently referring to THAAD.
However, the main focus of the discussions was on the disputed islands and both sides expressed hope that the issue could be resolved.
Joint efforts in fighting terrorism and drug trafficking were also on the agenda.
Japan and Russia last held "two-plus-two" talks in November 2013. Meetings were shelved due to the crisis in Ukraine, as Japan joined sanctions against Moscow.
But the countries see more room for agreement on joint development of fisheries, tourism and other areas.
Kishida said he intended to work in a "speedy manner" to move closer toward reaching a peace treaty, especially making progress on joint economic development.
Lavrov agreed, saying at the outset of the talks that "I believe this joint development will become an important step to create an appropriate environment for resolving a peace treaty."
The meeting took place as Abe's approval rating fell sharply, an opinion poll showed on Monday, in the wake of recent scandals.
Abe took power in December 2012 on the back of widespread frustration with the previous administration's handling of the 2011 nuclear disaster and perceived mismanagement of ties with key ally the US.
For weeks he has been forced to deny connections with a nationalistic school operator whose purchase of state land to build a primary school at a huge discount has drawn allegations of shady dealings.
Abe has said he had no role in the transaction and has vowed to resign if any connection is found.
But new twists to the scandal, which has also engulfed his defense minister, keep emerging, ensuring it remains on newspaper front pages.
The latest survey by the Yomiuri Shimbun newspaper shows approval for Abe's cabinet has dropped by 10 percentage points to 56 percent.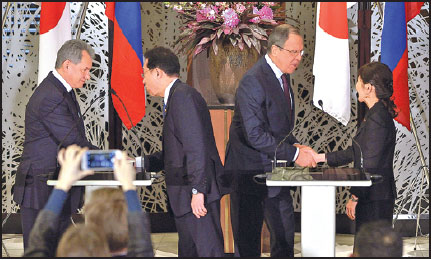 Japan's Defense Minister Tomomi Inada (right) meets Russia's Foreign Minister Sergey Lavrov (second right) while Russia's Defense Minister Sergei Shoigu (left) shake hands with Japanese Foreign Minister Fumio Kishida on Monday.David Mareiul / Ap
(China Daily 03/21/2017 page12)