Drugs, alcohol found in body of airport attacker
PARIS - Blood tests determined on Sunday that a suspected Islamic extremist consumed drugs and alcohol before a frenzied spree of violence that ended when he took a soldier hostage at Paris' Orly Airport and was shot dead by her fellow patrolmen.
The Paris prosecutors' office said toxicology tests conducted as part of an autopsy found traces of cocaine and cannabis in the blood of the suspect, Ziyed Ben Belgacem.
He also had 0.93 grams of alcohol per liter of blood when he died on Saturday, the prosecutors' office said. That is nearly twice the legal limit for driving in France.
The 39-year-old Frenchman with a long criminal record of drugs and robbery offenses stopped at a bar in the early hours of Saturday morning, around four hours before he first fired bird shot at traffic police. Then, 90 minutes later, he attacked the military patrol at Orly, causing panic and the shutdown of the French capital's second-biggest airport.
Yelling that he wanted to kill and die for Allah, Belgacem wrestled away a soldier's assault rifle but was shot to death by two other soldiers before he could fire the military-grade weapon in Orly's busy South Terminal, Paris prosecutor Francois Molins said.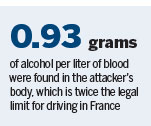 In an interview on Sunday with French radio Europe 1, a man identified as the suspect's father said Belgacem wasn't a practicing Muslim and drank alcohol.
"My son was never a terrorist. He never attended prayer. He drank. But under the effects of alcohol and cannabis, this is where one ends up," said the father. Europe 1 did not give his name.
The father was released from police custody overnight on Saturday. Belgacem's brother and a cousin were released later on Sunday.
Belgacem called his father and brother early on Saturday morning, minutes after he fired at a police traffic patrol, injuring an officer in the face, to say that he had made a stupid mistake, according to Molins, the prosecutor.
"He called me at seven, eight in the morning and said, 'There you go, Papa.' He was extremely angry, even his mother couldn't understand him," the man identified as the father said on Europe 1. "He told me: 'I ask for your forgiveness. I've screwed up with a gendarme.'"
A subsequent police search of Belgacem's flat found cocaine, Molins said.
Belgacem had been flagged as having been radicalized during a spell in detention in 2011-2012, Molins said. His house was among dozens searched in November 2015 in the immediate aftermath of suicide bomb-and-gun attacks that killed 130 people in Paris.
The Orly attack forced both of the airport's terminals to shut down and evacuate, sent passengers and workers fleeing in panic and trapped hundreds of others aboard planes that had just landed.
According to the soldiers, the attacker yelled: "Put down your weapons! Put your hands on your head! I am here to die for Allah. Whatever happens, there will be deaths," Molins said.
(China Daily 03/21/2017 page12)
Today's Top News
Editor's picks
Most Viewed