DAMASCUS - The Syrian army recaptured areas that had been taken during Sunday's wide-scale offensive by rebels in eastern Damascus, the military general command said on Monday.
The two-day fighting leaving dozens dead on both sides, the military and an activist group said.
The army retook all points lost to the rebels of the al-Qaida-linked Nusra Front and like-minded groups in the neighborhood of Jobar in Eastern Ghouta, said the statement.

Sunday's offensive began in the early morning when the Nusra Front and allied militant groups sent three suicide car bombs, targeting military positions on the outskirts of Jobar.
The rebels captured several buildings that government forces were controlling on the front-line between Jobar and the government-controlled areas in Abbasiyeen area.
Syrian TV on Monday quoted an unnamed military official as saying the army "regained control of all the points that terrorists" had infiltrated on Sunday. It also quoted Russia's ambassador to Damascus Alexander Kinshchak as saying one of the embassy's buildings was hit with a shell during the clashes.
Rami Abdel Rahman, head of the Syrian Observatory for Human Rights, said: "The government and allied forces have retaken the initiative and are striking the groups that launched yesterday's assault."
The Nusra Front has been designated as a terrorist group by the United Nations, and is excluded from any settlement.
The group recently changed its name to the Front for Conquering the Levant, after it was alleged to have cut ties with al-Qaida.
The group was responsible for recent bombings in Damascus and the central city of Homs, which resulted in the deaths of tens of people.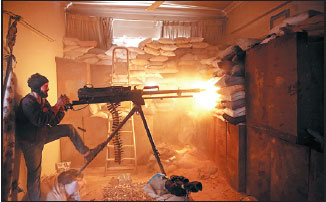 A rebel fighter from the Failaq al-Rahman brigade fires a heavy machine gun in Jobar, a district on the eastern outskirts of Damascus that was recaptured by government forces on Monday.Amer Almohibany / Agence Francepresse
(China Daily 03/21/2017 page12)