At first glance, Siming district, in the city of Xiamen in East China's Fujian province, has all the hallmarks of a busy commercial center: busy traffic, tall office buildings and the general hustle and bustle. But what sets it apart from other hub cities is its livable environment, attracting many foreigners.
The Guanren residential community can be found on Yundang street in Siming district and, over the years, the community has become a second home for thousands of foreigners.
Nicknamed "the tiny United States" by local people, more than 1,300 foreigners from 42 countries and regions live there.
Angela Lehmann, a resident of the community, works as an assistant professor at Xiamen University. But in her spare time, she also acts as the community's assistant director. Lehmann definitely views Guanren community as her home away from home.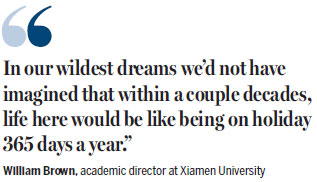 "My job is to help bridge cultural gaps and find new ways to help residents from different cultural backgrounds to live a better life and understand each other," Lehmann said.
Besides the colorful activities, Guanren community has developed a new and progressive approach to multicultural community governance over the past few years.
This is reflected in the grounds around the community, where signs written in both English and Chinese can be easily seen. In addition, the street signs, road markings and public service facilities are supplemented with English translations.
The surrounding infrastructure, including roads, street lamps, gardens, gyms and free Wi-Fi hot spots, were upgraded to fit the community's international atmosphere.
Last year, the Xiamen government launched new requirements for foreigners' permanent residence status in Xiamen.
Foreign nationals who have been continuously working for enterprises registered in the Fujian Pilot Free Trade Zone for four years and who spend no less than six months in the territory of China every year can apply for permanent residence.
Permanent residents should also earn an annual wage of at least 400,000 yuan ($57,989) and pay annual personal income tax of at least 77,000 yuan over four years.
"This new policy is based on the existing permanent residence policies. By introducing the market evaluation mechanism, the evaluation factors linked to wages, taxes, residential duration and social credit, the new policies are formed," said Xue Qi'an, deputy director of the Fujian Provincial Public Security Bureau.
Xue added that the new policy has reduced the difficulty for foreigners applying for permanent residence to some extent. The bilingual service windows, telephone hotline and foreign dispute mediation room serve as a sign of the community's commitment to both its Chinese and expatriate residents. The community also provides Chinese-English guidebooks.
The local government has also employed some professional social workers to help foreigners living in the community in all aspects of daily life.
The Chinese staff members working in the community befriend foreign residents through social networks such as WeChat.
Siming district is now home to about one million permanent residents. Its open and inclusive environment and fast-growing sense of internationalism have attracted an ever-increasing number of foreigners to settle in the area and start their own businesses.
Shapowei was a serene sheltered dock in downtown Xiamen, but is now a major creative industrial space, featuring an array of shops, including German-style bar Amoy Brau, but is now a major creative industrial space, featuring an array of shops, including German-style bar Amoy Brau.
Amoy is a former name of Xiamen, and Brau is the old Germanic word for a brewer. Felix Kraemer and David Krings, the shop's owners, put the two words together to symbolize what they do.
The two designers from Germany renovated a disused refrigeration plant into a vintage bar and began selling their self-made beer. Instead of transporting beers from their hometown, they insist on brewing beer locally.
"Our beer is not from Germany, it's made in Xiamen," Kraemer said.
Kraemer and Krings hope that their bar, with its cross-cultural theme, will help patrons to make friends from all over the world.
Nowadays, many young designers, artists and entrepreneurs like Kraemer and Krings are choosing to start their businesses in Shapowei. Through rational planning, Siming district has injected new vigor into the old town.
The district has also benefited from Xiamen's foreigner-friendly environment and policies, and more foreigners are now choosing to settle permanently in Xiamen.
William N. Brown used to be vice-president of a securities company in the United States, but now works as an academic director at Xiamen University as the first foreign permanent resident in Fujian province.
Brown came to Xiamen University in 1988. He fell in love with the beauty of Xiamen at the first sight, and the friendly people and international vision of Xiamen University all drove him to settle in the area.
In 30 years, he has written more than 10 books about Xiamen. In his eyes, the city's rapid growth is due to two factors: visionary leadership and open-minded, entrepreneurial residents.
"For centuries, Xiamen was a key port along the ancient maritime Silk Road, so Xiamen people are entrepreneurial and used to both Chinese and foreigners coming and going," Brown said.
Xiamen people eventually gained a reputation throughout China for being hospitable and open-minded, entrepreneurial and honest.
"Thirty years ago, we escaped here on vacations. In our wildest dreams we'd not have imagined that within a couple decades, life here would be like being on holiday 365 days a year," Brown said. "No wonder so many foreigners are now determined to settle down long term."
As for his plans after retirement, he couldn't restrain his feelings. His oldest son married a Xiamen native.
"Why would I ever want to go anywhere else? I plan to stay here the rest of my life. Here is my home, and its people are my family," he said.
liyou@chinadaily.com.cn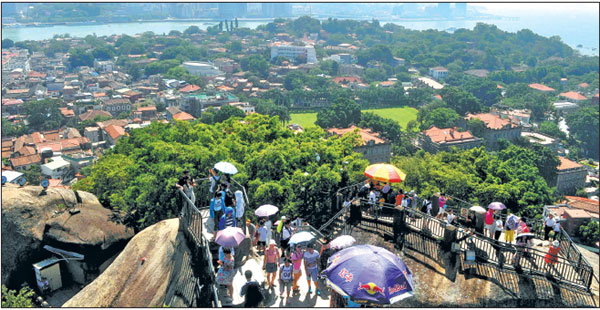 Tourists take in a panoramic view of the Gulangyu area in Siming district, Xiamen, from Riguangyan, a popular scenic spot.Yan Daming / For China Daily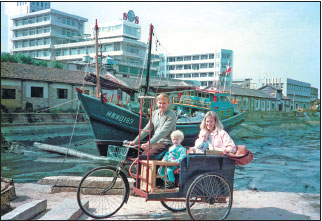 An old photo shows William Brown and his family in Xiamen back in 1988.Provided To China Daily
(China Daily 03/21/2017 page7)