Thirty-one Shandong-based companies and brands were highlighted in this year's provincial government work report announced in February, as the government is carrying out a strategy to build a number of internationally in fluential brands.
The mentioned brands and companies, including Tsingtao beer, Changyu wine, Haier home appliances and Inspur servers, are now collectively worth more than 587 billion yuan ($85 billion). Among them, 17 listed companies had a total market value of more than 445 billion yuan as of Feb 10.
For two years the Shandong provincial government work report has called for higher product quality and more branding efforts.
"Many time-honored brands, such as Dong'e Ejiao, are invaluable assets for Shandong," said Qin Yufeng, chairman of the Shandong Association of Enterprises with Time-Honored Brands and CEO of Dong'e Ejiao Co Ltd.
The association was founded in January and its members include 150 Shandong-based companies that produce famous local specialties, including Dong'e Ejiao - donkey hide gelatin originating from Dong'e county - Dezhou braised chicken and Zhoucun sesame seed cake.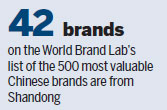 "All members should work hard as a team to promote the brands by inheriting their essence and innovating," Qin said.
As a national intangible cultural heritage item, ejiao is a traditional Chinese medicine tonic made by boiling and refining donkey skins. The brand's value stood at more than 34 billion yuan in 2016.
Led by Dong'e Ejiao Co Ltd, the ejiao industry with an annual output value of 15 billion yuan has been established in Dong'e county. The local government is planning to extend the business chain to skincare products, foods, drinks and tourism.
In addition to traditional products, Shandong-produced China Railway high-speed trains, Inspur servers and Weichai engines have become some of the new export stars in China.
By the end of last year, companies in Shandong had 696,400 valid trademarks, including 1,666 international trademarks filed through the Madrid System for the International Registration of Marks.
The province is also home to 427 products with geographical indication titles.
Among the most valuable 500 Chinese brands unveiled by the World Brand Lab in December, 42 are from Shandong.
Some Shandong companies have launched international acquisitions in recent years to increase their brands' international influence. In 2012, diesel engine developer Weichai Power spent 2.7 million euros ($2.9 million) purchasing a 70 percent controlling stake in German hydraulic system specialist Linde Hydraulics, the largest acquisition by a Chinese company in Germany.
"Acquisitions are more about integration than elimination," said Weichai Chairman Tan Xuguang. "Cultural integration is one reason for Weichai's success."
When it acquired French ship-use engine manufacturer Baudouin in 2009, it offered 2.99 million euros while a US competitor of fered 15 million euros. Weichai won the bid because it promised to keep all the Baudouin employees but the competitor said it would cut 30 percent of workforce.
Zhang Ningbo, director of the Shandong Bureau of Quality and Technical Supervision, said they will organize training campaigns for small and mid-sized companies in the province to help them to improve product quality and build their brands.
The authority plans to develop 350 products with famous Shandong brands and 200 services with famous brands this year.
zhangzhao@chinadaily.com.cn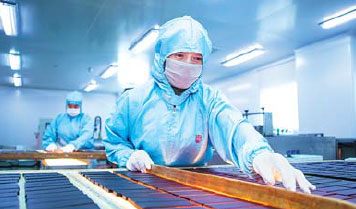 Workers process ejiao, a traditional Chinese medicine tonic, at Dong'e Ejiao Co in Shandong province. Photos Provided To China Daily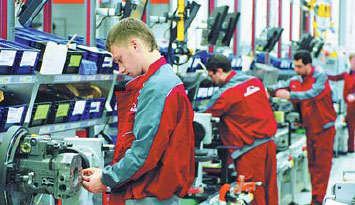 Employees work on an assembly line at German hydraulic system maker Linde Hydraulics, acquired by Weichai Power in 2012.
(China Daily 03/18/2017 page12)