KUALA LUMPUR - Interpol has issued a red notice, the closest to an international arrest warrant, for four people from the Democratic People's Republic of Korea in connection with the murder of a DPRK man at Kuala Lumpur's airport last month, Malaysia's police chief said on Thursday.
Malaysia has identified the victim as Kim Jong-nam, half brother of the DPRK's leader Kim Jong-un. The DPRK has refused to acknowledge that the victim is Kim Jong-nam.
He died on Feb 13, when Malaysian police say two women - an Indonesian and a Vietnamese - smeared super toxic VX nerve agent on his face at the airport.
The two were charged with murder earlier this month, but police are looking for seven DPRK citizens in connection with the killing, including four who are believed to have made their way back to Pyongyang.
Malaysia requested Interpol's help to apprehend the suspects last month.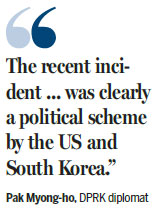 "We have obtained a red notice for the four ... who were at the airport on the day of the incident and who have since left... we are hoping to get them through Interpol," police chief Khalid Abu Bakar told reporters.
An Interpol red notice is a request to find and provisionally arrest someone pending extradition.
The murder has resulted in a diplomatic meltdown between two countries with once strong ties.
As relations soured, Malaysia recalled its envoy from Pyongyang and expelled the DPRK ambassador. The DPRK then barred nine Malaysians - three diplomats and their six family members - from leaving the country, prompting Malaysian Prime Minister Najib Razak to describe the action as "hostage" taking.
The country followed with a tit-for-tat action stopping DPRK citizens from leaving.
Speaking at the DPRK embassy in Beijing at an unusual and hastily arranged news conference, diplomat Pak Myong-ho blamed the United States and South Korea.
"The recent incident that occurred in Malaysia was clearly a political scheme by the US and South Korea aimed at hurting the DPRK's reputation and overthrowing the DPRK regime," Pak said.
At the time of the killing, Kim was carrying a diplomatic passport bearing another name, but Malaysian authorities said on Wednesday Kim Jong-nam's identity had been confirmed using DNA samples taken from one of his children.
Malaysia has also refused demands by the DPRK government for Kim's body to be released, saying that the remains can only be handed over to the next-of-kin under local laws. No family member has come forward to claim the body.
State news agency Bernama, quoting Malaysian deputy police chief Noor Rashid Ibrahim, said on Thursday that the family had given consent for Malaysia to manage Kim's remains. Noor Rashid did not say when or where the consent was given.
(China Daily 03/17/2017 page12)