Chinese loans fund Sri Lanka project
On Jan 11, President of Sri Lanka Maithripala Sirisena pushed the button controlling the dam gate that allows water into the Moragahakanda Reservoir, marking the successful operation of the water control project that will have a significant impact on the local economy and society.
The Moragahakanda project, costing $1.15 billion, is a major infrastructure project for Sri Lanka's post-war reconstruction. It is expected to end water scarcity challenges in several regions, including Matale, Polonnaruwa, Vavuniya and Anuradhapura.
The facility is a milestone project for the cooperation between China Development Bank and the Sri Lankan government.
In 2012, the bank signed an agreement with the Sri Lankan Ministry of Finance and Planning to offer $214 million worth of loans to the project.
The second-largest water control project in Sri Lanka, the Moragahakanda project is expected to play an important role in boosting local agriculture.

After the civil war ended in 2009, the country had great demand for post-war reconstruction funding, especially for agriculture and related industries such as irrigation.
Agriculture is the dominant industry in the Sri Lankan economy.
Farmland accounts for roughly 60 percent of Sri Lanka's land area and roughly 72 percent of the country's population are engaged in the agricultural industry.
The online newspaper Asian Tribune, which has a special focus on Sri Lanka, estimates that the direct benefits of the dam project include an additional production of 109,000 tons of rice per year, resulting in annual income of $27.7 million.
In addition to irrigation, the project will supply drinking water to millions of local people. It is also expected to generate 20 megawatts of power, fulfilling a long-term need for domestic and industrial electricity demand in the north-central, northern and eastern provinces, according to Asian Tribune.
China Development Bank's loans are an important part of the nation's efforts to help Sri Lanka to recover and grow.
By the end of 2016, the bank had pledged to lend $1.27 billion to the Sri Lankan government for its infrastructure projects, which range from irrigation and water supply to highways.
Located at the hub of the 21st Century Maritime Silk Road, Sri Lanka is China's important partner in the South Asia and Indian Ocean regions.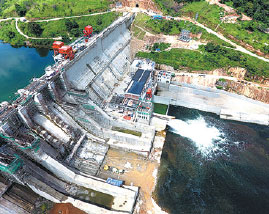 The Moragahakanda Reservoir is a key infrastructure project for Sri Lanka's post-war recovery.
(China Daily 03/13/2017 page15)
Today's Top News
Editor's picks
Most Viewed