If one wants to learn about how Han Chinese people lived 600 years ago, one of the best places for field trips is a village in Southwest China's Guizhou province.
Located in Pingba county, in Southwest China's Guizhou province, the origins of Anshun's Tianlong Tunpu village can be traced back to the early Ming Dynasty (1368-1644). The inhabitants of the village are descendants of ethnic Han soldiers who manned a garrison in the area.
Even today locals speak a dialect that is closely related to that of Nanjing, Jiangsu province, a former Ming Dynasty capital.
The village is home to Di opera, or ground opera. It is performed with wooden masks, which are believed to show respect to gods and help dispel evil. Officials recognized the opera as a cultural heritage item in 2006.
"Masks are essential to the ground opera and it is the core of Tunpu culture," said Qin Fazhong, a native of Anshun.
The most distinctive feature of the ground opera is that different roles require different masks, to reveal the characters through their changing facial features and decorations.
A big fan of the opera, Qin raised 5 million yuan ($729,100) and built Anshun's first museum dedicated to the opera masks in 2016. Each month, it attracts more than 1,000 visitors from around the world.
"The museum serves as a place for people to learn about the opera, which helps them to deepen their understanding of Tunpu culture," he said.
One thing that Qin did not expect, but is glad to see, is that his move has generated opportunities for his neighbors. Four of them are running hostels to accommodate visitors.
Qin said he hopes more people will become involved, to offer better accommodation and thus improve the local tourism industry.
Rejuvenated tourism industry
His wish is precisely what the local tourism authorities are working to achieve through a plan based on three well-known local places of interest.
One is Tunpu and the other two are Huangguoshu Waterfall, the province's top sightseeing destination, and Loong Palace, which features karst caves, underground waterfalls and serene rural scenery.
In August 2016, local authorities integrated the three sites into a larger tourist destination called the Huangguoshu Scenic Zone, because of the waterfall's fame, management experience, well-developed facilities and professional services.
The move creates a scenic area that offers a package of destinations, which will attract more tourists and extend their visits, said local tourism officials.
Zeng Kun, a deputy director of the Huangguoshu scenic zone, said the newly integrated destination received 12.34 million visitors from home and abroad in 2016, representing 47 percent growth year-on-year.
The tourists generated revenues of 12.15 billion yuan in the year, up 51.55 percent from 2015.
The authorities plan to plant 733 hectares of Huangguo, a local fruit, this year, double the current number. In fact, Huangguoshu Waterfall is named after the fruit tree.
Zeng said, "The move will help farmers to increase their revenue and offer visitors another enjoyable sight."
As the integration deepens, local authorities are scaling up their investment in the destination's facilities.
Zhu Guiyun, a deputy Party secretary of Anshun, said the expenditure on Huangguoshu and Loong Palace totaled 1.13 billion yuan in 2016.
The authorities are also building a 350 million yuan wetland garden within the 115-square-kilometer Huangguoshu zone. When completed, it will connect four parts of the zone and offer visitors yet more scenic escapes.
The first phase of the project has been completed, with the garden receiving a national-level rating in January.
"Focusing on building an integrated scenic zone, Anshun is becoming a pioneer in the province's tourism development pattern. We will work hard to make the city an exemplar of integrated tourism zones in the country," said Zhu.
Contact the writers through lifusheng@chinadaily.com.cn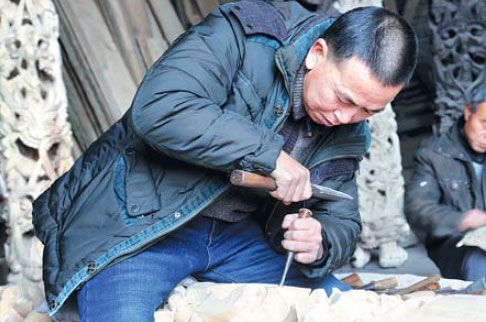 Qin Fazhong works on a mask sculpture. Yang Jun / China Daily
(China Daily 03/07/2017 page24)