Angela Wong from Hong Kong once planned to visit Huangguoshu Waterfall in Guizhou province during the 1970s, but she changed her mind after hearing someone say that the province in Southwest China was unsafe.
But more than three decades later, against all expectations, her career has taken off in the region she previously feared. Now she operates a medical examination center in Guizhou and has come to appreciate the region's environment and development.
Wong said that she traveled to Huangguoshu Waterfall three times last year and has seen the rainbow it creates in the mornings. "It is more beautiful than Niagara Falls, especially the Water Curtain Cave. It's so astonishing!" she said.
Wong said the environment is well protected in Guizhou. She suggested that tourists make the trip to the waterfall in spring and autumn, as that is a particularly special time to visit.
A returnee entrepreneur
She returned to China in 2005, after working with GlaxoSmithKline in the United States for nearly 20 years. At the invitation of one of her close friends, Wong went to Guizhou in 2015, focusing on medical examination and setting up the medical examination center.
"We mainly have a complementary relationship with hospitals, providing them with examination and quarantine services," Wong said.
Her center offers these services based on samples collected by hospitals. Doctors use test data supplied by the center to make a diagnosis and prescribe treatments for patients. Wong said her center is the first laboratory in the provincial capital Guiyang that can screen newborns' plantar blood for metabolic and genetic disorders.
"With just a drop of plantar blood from newborns, we can diagnose more than 30 congenital metabolic diseases, infectious diseases and other potential problems caused by gene defects," Wong said.
She said the screening can help to reduce parents' anxiety and provide China's less developed western regions with access to cutting-edge medical services.
"I chose Guizhou mainly because I noticed the gap of precision medicine in Southwest China," Wong said, adding that currently there are no companies in the region that deal with high-end examination and quarantine, and offer precision medicine services.
She said her center filled this gap and would have great market opportunities in the future.
In terms of precision medicine, China's market share is less than one tenth of the US', Wong said, adding that China has a bigger population than the US and she believes there is significant room for development.
Wong said that after the high-speed railways connecting Guiyang to some other cities in western China officially open, it will only take two to three hours to travel from Guiyang to cities such as Chongqing and Chengdu, which will make it far easier to transport samples.
She said the Guiyang government has supported efforts to attract professionals. The authorities offered Wong's center a 4,000-square-meter office area, with free rent in the first three years and half rent in the fourth and fifth years.
Wong's key team members are all doctors who have more than 10 years' work experience in large pharmaceutical companies. Wong said her company also boasts advanced devices, so through examination, it can inform testers of the risk of cancer and other diseases, and assist in early prevention.
Contact the writers through songmengxing@chinadaily.com.cn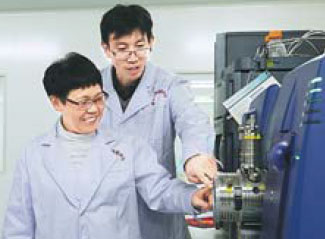 Angela Wong tests samples with her colleague in her medical examination center in Guiyang, Guizhou province. Yang Jun / China Daily
(China Daily 03/07/2017 page24)