A former senior official in Beijing was sentenced to 13 years in prison for taking bribes of more than 18 million yuan ($2.62 million), a local court in Northeast China ruled on Monday.
Lyu Xiwen, former deputy Party chief of Beijing, had been the capital's third-highest ranking official before she was brought down on corruption charges.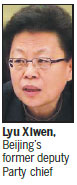 Lyu, 61, was found to have taken advantage of various official posts from 2001 to 2015 to seek benefits for others. She took bribes worth 18.79 million yuan, according to the verdict of the Jilin Intermediate People's Court.