Trump still speaking campaign language
He vows better Moscow ties but hasn't revealed plans to get there
For all the White House's early bravado, US President Donald Trump has taken office with few concrete plans for how to make good on his pledge to unravel president Barack Obama's foreign policy and tackle some of the biggest national security challenges facing his administration.
In calls with European leaders, Trump was said to have described his plans for confronting the Islamic State group with the same hard-charging but vague rhetoric he used in the campaign, promising strong, but unspecified action.
Pressed privately by allies about how he plans to pursue a better relationship with Russia, Trump stuck with his public assertion that a better relationship with Moscow would be beneficial for the West. But he hasn't said how he plans to get there.
He has indicated in some of those same conversations that while he believes the Iranian nuclear accord is a bad deal, he will not move quickly to withdraw, according to US officials and others with knowledge of Trump's discussions with world leaders.
Ambiguity was a hallmark of Trump's campaign. He has said he believes the US should not tip its hand on national security matters. But the fact that Trump is using vague language in private discussions has left both allies and officials in his administration uncertain whether he has policies in mind to back up his rhetoric.
A town hall for National Security Council staff on Tuesday offered few clues on the administration's approach.
One official in attendance said that when Michael Flynn, Trump's national security adviser, and his deputy, KT McFarland, were asked to describe specifically what the president's "America First" mantra would mean for policy, they largely reiterated Trump's campaign assurances that he could put US interests ahead of those of other countries.
Trump has moved swiftly on the immigration-related national security issues that were the centerpiece of his campaign. He ordered the government to start work on his proposed wall along the US-Mexico border. He also signed an immigration executive order, though the decision-making was tightly held in the West Wing and the initial implementation chaotic.
"The team that we've seen in action over the last few weeks is the White House team," said Nicholas Burns, a longtime US diplomat and professor at Harvard University's Kennedy School of Government. "That team is breaking a lot of china."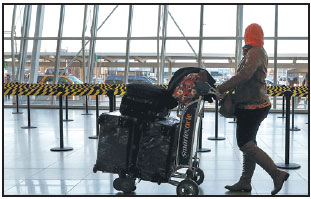 International travelers arrive at John F. Kennedy international airport in New York on Saturday.Brendan Mcdermid / Reuters
(China Daily 02/06/2017 page12)
Today's Top News
Editor's picks
Most Viewed