Street's bakers whip up recipe for success
Li Haiqing, who owns an Aming mantou (Chinesestyle steamed bun) shop in Qingdao, Shandong province, was invited to attend the Chinese Intangible Heritage Delicacy Activity in France in July 2016.
During the event, the baker from the Wanggezhuang Street area, a renowned regional bakery hub, won a gold award at an international culinary competition in Paris in July 2016.
"Our products are sold to many parts of the country, including Urumqi, capital of the Xinjiang Uygur autonomous region in the northwest, and Hainan province in the south," Li said.
"One of our customers from the city's Chenyang district placed an order for mantou in various shapes as a present for his business partners in the United States," she recalled.
Li's success story is the epitome of Wanggezhuang's robust development in Qingdao. The area has established a reputation for its diverse mantou products, which are closely linked with traditional culture, as well as the creative patterns on the buns.
The buns are made into different shapes according to the festival or occasion being celebrated. Popular shapes include dragons and phoenixes, tigers and longevity peaches.
While preserving traditions, the bakeries in Wanggezhuang also look to introduce new products to their existing range.
Jing Changyan, an employee at a steamed bun shop called Jiuxiangyuan in the city's Hejia Ccommunity, said the buns featuring wild lyceum ruthenicum from the Xinjiang Uygur autonomous region were their best innovation of last year. Lyceum ruthenicum, also known as black Chinese wolfberry, is said to have health-giving properties.
"Made of lyceum ruthenium, wheatmeal and spring water from Laoshan Mountain, the buns are mineral rich, nourishing and easy to digest," Jing said. "We once sold a record 30,000 of these buns within one fiscal quarter."
Data show that more than 300 bakery and retail businesses in the Wanggezhuang Street area sold more than 15,560 tons of buns in 2016, generating 93.38 million yuan ($13.62 million) in combined sales.
Du Lejiang, Party chief of the area, said: "Food safety is of paramount importance and it impacts on the reputation of the entire area. We need to focus on quality control when it comes to the supply of our raw materials. By doing so, we can help to ensure the healthy growth of the sector."
Cao Yingying contributed to this story.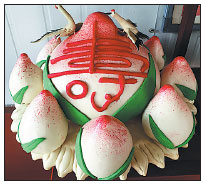 Longevity peach mantou made in Wanggezhuang generally presented to elderly people in Chinese culture in the same way birthday cakes are given in the West.Provided To China Daily
(China Daily 01/26/2017 page12)
Today's Top News
Editor's picks
Most Viewed