The California Institute of the Arts was created partly by Walt Disney's desire to bring more top-flight animators into the profession. And it has during its 47 years, though for a long time almost all were men.
Now, nearly three-quarters of CalArts' more than 250 animation students are women, and there's a new goal: ensure that when they land jobs, they get to draw female characters reflective of the real world and not just the nerds, sex bombs, tomboys or ugly villains who proliferate now.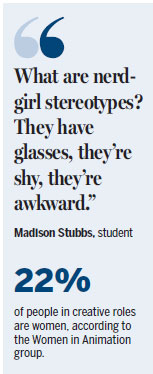 "Male villains, for example, can be any shape or size. But female villains are usually in their menopausal or postmenopausal phases. They're older, they're single, they're angry," said Erica Larsen-Dockray, who teaches a class for CalArts' experimental animation program.