Qiu He, former deputy Party chief in Yunnan province, has been convicted of bribery and sentenced to 14 years and six months in jail, according to a court in Guizhou province.
Qiu, 59, was also fined 2 million yuan ($289,000), while all his ill-gotten assets were confiscated and retuned to the State, according to the verdict from the Guiyang City Intermediate People's Court in Guizhou province.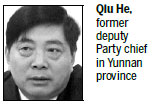 According to the court, Qiu abused his power to gain benefits for others in projects, bank loans and jobs, and accepted bribes totaling 24.33 million yuan, paid either to himself or through his staff, from 2008 to 2015.