Exhibition industry drives decades of business expansion
Qingdao, a coastal city in East China's Shandong province, has being forging ahead to become a center for international exhibitions and conferences over the past few years.
It aims to increase its total exhibition area to 4 million square meters in 2020, which is expected to bring direct income of 5 billion yuan ($724.1 million) and added value of 40 billion yuan in the industry.
There are many new events being held in Qingdao these days, many of them international, and some of them are expected to promote local exhibition brands, said Feng Wenqing, chairman of China Council for the Promotion of International Trade Qingdao Sub-council.
Utilizing Qingdao's advantageous location, extensive traffic network, infrastructure projects for exhibitions and experience in holding exhibitions have accumulated over the last decade, as the city has evolved into "China's most creative city for international exhibitions".
A dynamic coastal city
Qingdao, one of 14 opening-up coastal cities in China, is the homeland of sailing ships and host of the 29th Olympic Games sailing events.
As a coastal city in Shandong, it has recently been working to expand and improve its transportation infrastructure.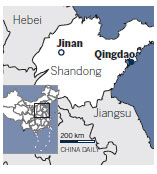 Qingdao Liuting International Airport has opened 144 regular routes, which link it to 66 domestic cities and 18 international cities or regions.
Qingdao Jiaodong International Airport, a 4F-level airport, is designated to operate major airlines when construction is finished.
Once the airport is ready, it will become the province's gateway to Japan and South Korea.
Fueled by its innate geographical advantages, the area's economic and academic development are also among the best in the country.
More than 80 world-renowned Chinese brands such as Haier, Hisense and Tsingtao beer are headquartered in Qingdao.
Its oceanic study is also leading other cities, as more than 30 percent of the country's ocean-related scientific organizations and labs are located there.
All-round infrastructure
Qingdao currently has two modern exhibition centers, the Qingdao International Convention Center and Qingdao International Expo Center.
The Qingdao International Convention Center, with one of the highest user rates in China, is a smart hall for exhibitions, conferences, business, catering and entertainment.
In its nearly 60,000 sq m of indoor exhibition space, there are seven exhibition halls that together can house more than 4,000 international standard booths. It also has 50,000 sq m of outdoor area.
From 2000 to 2015, a total of 1,159 exhibitions and activities were held at the Qingdao International Convention Center, making it the winner of China's convention industry's Golden Thumb award.
The Qingdao International Expo Center, with about 260,000 sq m exhibition area in total, includes a 135,000-sq-m indoor area, capable of housing more than 6,000 international standard booths.
The China Fisheries & Seafood Expo and China International Pharmaceutical Machinery Exposition are two major international exhibitions held there.
Qingdao is also well equipped with high-end accommodation to serve exhibitors and guests. More than 120 three-star above hotels are scattered throughout the city, with a total of 400 meeting rooms and 150,000 sq m of exhibition space available.
Among them, there is no lack of first-class hotels like the Shangri-La, InterContinental Qingdao and Hilton Qingdao Golden Beach.
In order to further optimize the local exhibition industry, Qingdao introduced the "four areas" exhibition plan to build two more exhibition centers in the other districts, following the model of the two preexisting exhibition centers.
By the time of the project's completion, Qingdao will have formed a new pattern for its exhibition industry based in Laoshan district, Jimo district, the west coast of Qingdao new district and the Hongdao economic zone.
Synergy effect
In recent years, more and more international exhibitions have chosen Qingdao as their host.
The 2014 Qingdao International Horticultural Exposition showed "the world a firstclass expo with Chinese style, Shandong style and the Qingdao brand" with 241 hectares of gardens visited by 4 million tourists over 184 days.
The 2015 Asia-Pacific Economic Cooperation meeting gathered 21 APEC members and thousands of political and business representatives to amplify Qingdao's voice in the world of international conferences.
The 2016 Civil Society 20, an important activity in support of the G20, was held in Qingdao, attracting more than 170 non-governmental organizations from about 50 countries and regions.
Qingdao is paving its way to the world stage.
The second World Internet Plus Industry Conference was held in Qingdao from Sept 27 to 28.
The conference aimed to provide a communication platform for advancing key strategies, such as the Made in China 2025 plan and Internet Plus, in an effort to promote innovation and the integration of manufacturing and the internet.
In late June, Qingdao hosted the International Conference on Education Information and Communication Technology again, with some 580 representatives including officials, experts, scholars and teachers from all over the world focusing on education reform and the Education 2030 Agenda in the era of internet.
According to Feng, Qingdao has built up connections with more than 30 prestigious international organizations for exhibitions, including the Global Association of the Exhibition Industry, also known as UFI, and the International Association of Exhibitions and Events, also known as IAEE, and International Congress and Convention Association, also known as ICCA.
The city will promote the hosting of more exhibitions identified by UFI and organize more enterprises to participate in some well-known exhibitions abroad as well as various training programs.
"Qingdao is expected to become a famous convention city in Northeast Asia and even worldwide," Mei Xiaodan, chairman of Dalian BIT Congress, who helped to organize some exhibitions in the city.
zhuanti@chinadaily.com.cn
(China Daily 12/15/2016 page12)
Today's Top News
Editor's picks
Most Viewed