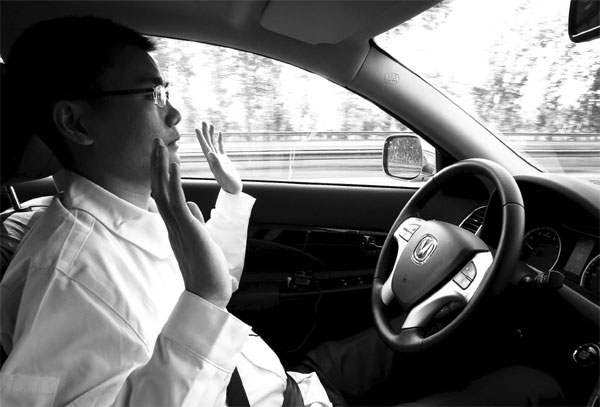 An engineer of Changan Automobile tests a self-driving car on a highway in Beijing on April 16. Kim Kyung-Hoon / For China Daily
Businesses worldwide are using patents to plant the seeds of the fully self-driving car industry of the future
Autonomous driving technologies have become a "clear leader" in terms of innovative activity in the automotive sector, said industry insiders.
Autonomous driving involves navigating a vehicle without input from passengers through the use of sensory, control and navigation equipment.
"Currently, about 40 percent of the cost of a car is for electronic components. In the future, an autonomous car will have thousands of electronic components dealing with data," said Zhu Shaobin, a lawyer from Finnegan, a global intellectual property law firm.
Zhu predicted there will be "no battle" for patents, as the industry heavyweights that own most of the intellectual property have equal market power and mutual competition.
He suggested that Chinese enterprises should apply for patents that have a solid market in order to form a real constraint on competitors.

Between January 2010 and October 2015, there were more than 22,000 unique self-driving inventions globally, according to the 2016 State of Self-Driving Automotive Innovation, a report unveiled earlier this year by Thomson Reuters' IP & Science business, now known as Clarivate Analytics.
The trend is predicted to continue.
According to the report, Japan holds the world's leadership position in autonomous driving innovation, as Toyota Motor leads the pack, followed by Denso, Bosch, Nissan Motor and Honda Motor.
The report was compiled based on analysts' study of the total number of unique inventions issued in published patent applications and granted patents from Jan 1, 2010, through Oct 31, 2015.
A technology roadmap of energy-saving and new energy vehicle technology released by the Society of Automotive Engineers of China showed its outlook for the country's industry.
By 2020, vehicles with driver assistance or partial autonomous driving capacity should have a 50 percent market share of the auto market. By 2025, there will be 15 percent market share for highly autonomous driving vehicles and by 2030, fully autonomous driving vehicles should have a 10 percent market share.
The Ministry of Industry and Information Technology has set up pilot bases for automatic driving in Beijing, Shanghai and other cities. In addition, an innovation center for the national network of intelligent automobiles is on the way, said Hao Jianqing, an official at the ministry.
Meanwhile, tech businesses dabbling in the automotive sector continue to attract attention.
Apple announced its ownership of a new patent last week, which allows automatic driving vehicles to avoid collision of arbitrary shapes via a remote sensing system at a detecting rate of 60 times per second.
Following a number of tech companies and automakers such as Google, Ford Motor, Tesla Motors and Mercedes-Benz, the United States chipmaker Nvidia was recently approved by the California Department of Motor Vehicles to test its unmanned vehicle on public roads.
Up to now, six states in the US have passed bills allowing unmanned vehicles to drive within the speed limit of 30 kilometers per hour.
liyou@chinadaily.com.cn
(China Daily 12/14/2016 page17)