Cities learn from each other's sustainable development experience
The third Guangzhou International Award for Urban Innovation, held in the capital of Guangdong province from Monday to Wednesday, has become a globally appreciated project in raising environmental awareness, exchanging experiences in sustainable development and encouraging innovation in urban development.
The biennial event recognizes the top five urban innovation projects from around the world. It aims to facilitate the exchange of urban innovation experiences, learning from successful cases, and advocating scientific ideas to drive sustainable development.
"The Guangzhou International Award for Urban Innovation has made a very positive impact," said Parks Tau, president of United Cities and Local Governments, a co-organizer of the event.
"The whole world is experimenting with innovative projects on sustainable development," Tau said. "We need to learn from each other, to copy, promote and share new concepts."
Cecil Steward, an established architect who has served as a panel member for two Guangzhou awards, has witnessed the changes in the host city over the past four years.
After the event, he spoke highly of the progress Guangzhou has made and said the awards have become a globally recognized and appreciated program.
"The creation of this program is not only special for the Chinese community. It is also a leading project in global collaboration. It promotes living sustainably and collaboratively with each other," he said.
Yossi Vardi, co-chairman of Israel-based Digital-Life-Design, said: "Guangzhou has seized the opportunity for regional development and boosted innovation. It has shown its great potential and bright future.
"The Guangzhou International Award for Urban Innovation has set a good example of how to tackle the challenges that cities face while developing."
Selected from 301 innovation projects submitted by 171 cities, the winners of this year's awards were recognized for their excellence in sustainable urban development. They included: Songpa-gu in South Korea, Qalyubia in Egypt, Copenhagen in Denmark, Boston in the United States and La Paz in Bolivia.
The event is expected to enhance the communication between cities and countries, set examples for local governments and to seek solutions to global challenges such as climate change, poverty and gender inequality.
"After 16 years as a city mayor in Germany, I know it is not easy to convince the city council that a project makes sense," said Beate Weber-Schuerholz, former mayor of Heidelberg.
"You learn by answering questions, getting replies and hearing details from others," Schuerholz said. "In the past, people thought the national government could change things, but now we realize it is communication between national and local governments that makes changes."
The awards also shed light on the future development of Guangzhou and enhanced the partnerships between China and other countries, local officials said.
"Innovation is an essential force driving the city to a higher level," said He Zhongyou, deputy governor of Guangdong.
"This event has brought the wisdom of the world together and it will help our province to better implement the innovation-driven development strategy and make Guangdong an innovation hub in China," He said.
Ma Peihua, vice-chairman of the Chinese People's Political Consultative Conference, also highlighted the profound influence of the event.
"The awards will encourage countries to learn from each other and overcome their individual weaknesses," Ma said.
"I believe this event will help cities in China to work more closely with other countries and intensify cooperation."
renxiaojin@chinadaily.com.cn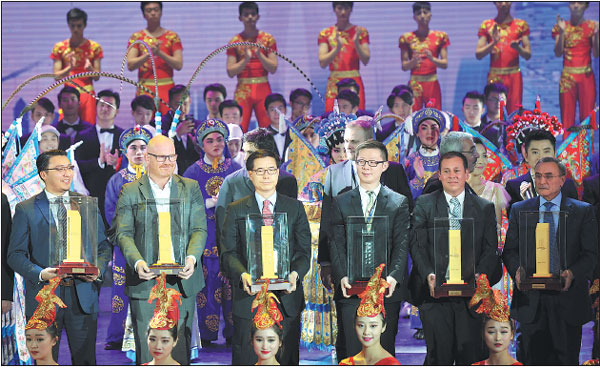 Winners of the Guangzhou International Award for Urban Innovation pose for a group photo at the award ceremony on Wednesday.Provided To China Daily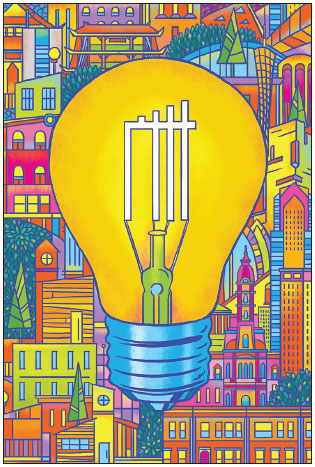 (China Daily 12/09/2016 page10)