Marine haven builds on its fresh foods
The 2016 Oyster Festival is being held from Dec 1 to 4 in Qinzhou, in South China's Guangxi Zhuang autonomous region, said Han Liu, its deputy mayor in charge of publicity, at a press conference on Nov 16.
Qinzhou is one of China's closest harbor cities to other ASEAN countries. It is also famous for its unique production of da hao oysters, or ostrea rivularis gould. The local government has introduced a series of programs to serve the festival's guests, many of which incorporate the internet for a more futuristic food festival.
This year's Oyster Festival features 11 major activities, including a pottery contest, real estate trade fair, international sailing competition and road bicycle racing. A total of 12 sailing teams from countries and regions including the United States, the United Kingdom, Australia, Belgium, Singapore, Taiwan and Hong Kong will compete in the Maowei Sea in Qinzhou.
A fleet of 40 Harley-Davidson motorcycles will patrol the Qinzhou roads. At the 2016 China Road Race Qinzhou station, more than 200 cyclists from the UK, Vietnam and Hong Kong will ride along with competitors from the Chinese mainland.
During this year's Oyster Festival, a tourism conference focusing on Guangxi Zhuang autonomous region and Guangdong province will also be held in Qinzhou.
"A total of 35 cities will discuss ways to further strengthen tourism cooperation among them to propel tourism integration in the region," said Han at the conference.
With more cooperation, Guangxi hopes to achieve several goals, such as introducing more capital from Guangdong province, sharing information, making better use of the existing transportation network of railways and rivers, and using tourism to alleviate poverty.
Located at the core of the Beibu Gulf economic zone, the city is home to Qinzhou Harbor, offering convenient transportation facilities and a passageway for Southwest China to access the sea.
Qinzhou has a long coastline of 562 kilometers, and more than 300 small islands. The city has more than 600 square kilometers of tidal flat areas, small hills and barren slopes suitable for major industrial and logistical projects.
Qinzhou also enjoys strong cultural resources developed throughout its 1,400 years of history. The city's traditional Nixing pottery has more than 1,300 years of history and is one of the four famous pottery styles of China, according to the city's department of communications. The pottery is part of China's national-level intangible cultural heritage and a protected national geographic indication product.
The city's Sanniang Bay is home to the wild white dolphin, a kind of sea animal dubbed "the giant panda of the sea" because of its rarity. There has long been a tradition among local residents to protect white dolphins, who carefully free them if caught in commercial fishing nets.
Pan Wenshi, a professor of wildlife research at Peking University, has set up a station in Sanniang Bay to monitor the number of white dolphins in the area.
According to data from his station, there are about 200 wild white dolphins in Sanniang Bay and the number is growing.
Sanniang Bay has already become a tourist site famous for white dolphin watching. Each year, millions of visitors come from all over the world hoping to catch a glimpse of the rare creatures.
The local environmental protection agency is also very cautious in protecting the bay's ecology, as white dolphins are extremely sensitive to environmental changes, which could drive them away from the bay.
zhangzhouxiang@chinadaily.com.cn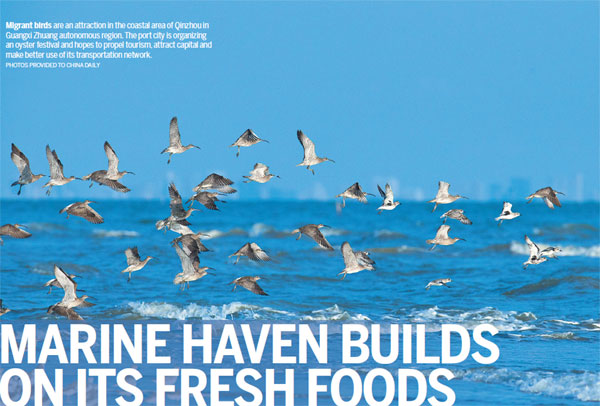 Migrant birds are an attraction in the coastal area of Qinzhou in Guangxi Zhuang autonomous region. The port city is organizing an oyster festival and hopes to propel tourism, attract capital and make better use of its transportation network. Photos Provided To China Daily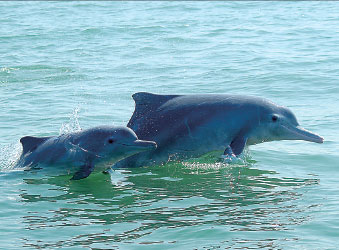 Rare white dolphins swim in Qinzhou's Sanniang Bay.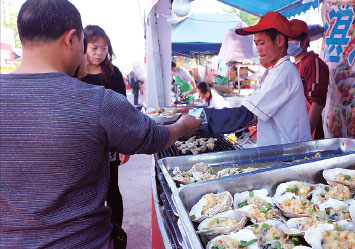 The city is known for its unique production of delicious oysters.
(China Daily 12/01/2016 page24)
Today's Top News
Editor's picks
Most Viewed