Every evening, Lin Shengzhong, a villager in Datian county, Fujian province, takes a stroll through the tree-lined park in his village.
He could not experience such a luxury three years ago, as the park, which is more than 1 hectare in size, was at that time still a lifeless pile of subsoil and construction waste from nearby mines.
The county, which is rich in coal and iron ore resources, was overrun with all sorts of mines at that time, causing extensive pollution.
"The dust was all over the place," Lin said. "Locals would even have to wear a raincoat to protect themselves from the dust on some days."
There were 138 mining factories in the 18 townships across the county during the peak of its mining activities.
"The rice and vegetable seedlings were dying on a large scale, as the mining factories used water from the creeks to wash the ores, and there was sulfur in the waste water," he recalled.
A change started in 2012, when the provincial government listed Datian county as a prioritized area for water and soil erosion prevention.
The authorities closed all coal and iron ore mines that failed to reach national environmental standards.
They also embarked on a campaign to repair the local ecology and turn mining areas into parks, industrial and logistic parks and farmland.
The authorities have reforested more than 10,000 hectares of land and restored 1,150 hectares of mining areas to green belts over the past four years.
The change of the landscape from yellow to green is just one indication of Fujian province's success in transforming local development to include ecological protection.
Local authorities have rejected investment projects that would otherwise cause potential pollution problems.
In Putian, the city government turned away a forest-pulp paper investment project worth 26 billion yuan ($3.78 billion), after finding it would consume a large amount of water and discharge wastewater into coastal areas.
The authorities also started to publicize the air quality of each county-level city in the province in January 2015, as local authorities made it clear that government heads at different levels would be responsible for environmental protection.
The authorities have also prioritized the prevention of sand excavation in the rivers, which could cause severe ecological problems, including salt tides.
Lai Jiqian, deputy head of the provincial department of water resources, said supervision of sand excavation used to be a major challenge for them, as the fines issued by authorities were far below the profits made in the process.
To solve the problem, the provincial government has issued a new regulation on the protection of river channels, and has established cooperation between different government departments to launch special crackdown campaigns.
In the first half of this year, the police investigated 27 criminal cases concerning illegal excavation, and local authorities checked and detained 38 ships involved in illegal mining activities in the rivers.
Xu Wei contributed to this story.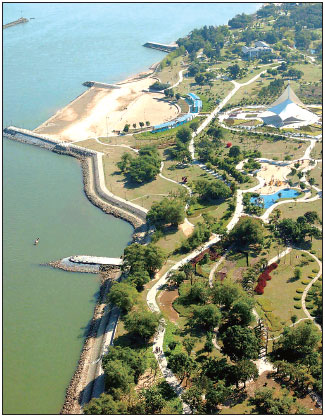 The Fujian provincial government has increased the protection of its river channels.You Qinghui / For China Daily
(China Daily 11/25/2016 page10)