Trump trademarks grow, not all from US president-elect
US President-elect Donald Trump, as a famous entrepreneur, has filed more than 80 trademarks in China using his name over the past decade, most of which have been granted.
According to a report on Beijing Youth Daily, Trump filed his first five trademarks in 2005. In 2015 alone, when he announced he would take part in the presidential election, he filed more than 40 trademark applications in China.
The applied trademarks cover a wide range of businesses, such as real estate, financial services, insurance and education.

Besides his name Trump and Donald Trump, as well as their Chinese translations, the trademarks also include Trump Estates, Trump Plaza and Trump International Hotel& Tower.
However, Trump is not the only one in China applying trademarks with the word Trump.
In December 2006, Trump filed an application at the national trademark office for a Trump trademark in the category of house interior decoration and repair services. The application was rejected because a Chinese man named Dong Wei had applied the same trademark in the same category just two weeks earlier.
Trump then requested reexamination at the Trademark Review and Adjudication Board, but the board ruled in favor of Dong in 2014.
Trump launched legal action in Beijing against the board, but the Beijing High People's Court issued its final verdict in May 2015 rejecting the lawsuit.
"For Chinese companies using Trump-related trademarks, the marks are valid as long as the applications are approved. It doesn't matter if Trump is elected US president," said Wang Jianbing, a partner of Beijing Dongfang Huizhong IP Agency.
He said what Dong did should not be seen as badfaith filing, because he filed the trademark earlier than Trump and Trump, as a businessman at the time, was not very famous in China back in 2006.
"However, as Trump has now become the next US president, it is likely that the Chinese trademark office will reject any Trump trademark applications from other people in the future," Wang said.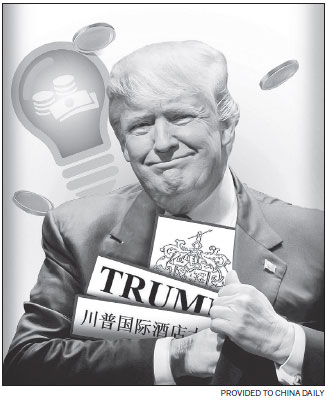 (China Daily 11/23/2016 page17)
Today's Top News
Editor's picks
Most Viewed