Adapting to China's unique auto market key in NEV strategy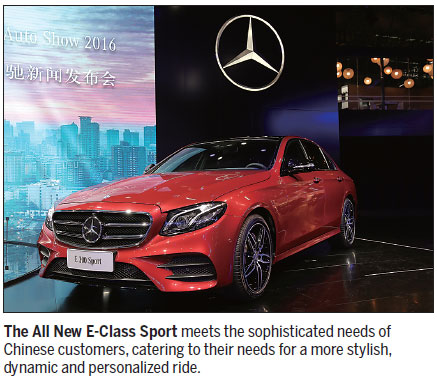 As the Mercedes-Benz's "Year of Innovation" draws to a close, executives from Daimler sat down with media representatives during the Guangzhou Auto Show and made it clear that the German premium automaker is listening closely to China's distinctive personalities and voices and reflecting this in their brand offerings.
"We are looking at what is it that we need to do to make sure that whatever systems and features we're bringing meet Chinese customer needs," said Nicholas Speeks, president and CEO of Beijing Mercedes-Benz Sales Service Co Ltd, during an interview at the auto show.
It is clear that the product development for Daimler is increasingly being addressed through Chinese eyes. This focus on China is evident in the company's preparation for China to become the world's largest new energy vehicles market.
At this year's Guangzhou Auto Show, Mercedes-Benz not only unveiled its Concept EQ all-electric SUV, but also hinted at big plans for the EQ brand.
"To me, there is no doubt China will be the biggest NEV market in the world," said Hubertus Troska, member of the Board of Management of Daimler AG, responsible for China.
"There is a strong vision for this happening. And EQ will be built and sold in China."
Just last year, Daimler estimated that 3 percent of its global product portfolio would be comprised of new energy vehicles by 2025.
However, recent market shifts, particularly consumer and government policy trends in China, have given the company confidence that it can elevate the proportion of new energy vehicles in its global product lineup to somewhere between 15 and 25 percent by 2025.
"In all fairness, we don't know whether this proportion will be 15 percent or 25 percent, but the key takeaway is we are going all-in," said Troska.
"This is a big and significant range, and this is why we created EQ. We are really investing everything."
These developments fall in line with the Chinese government's recent announcement of a new energy vehicle credit policy draft, which establishes an 8-percent new energy vehicle sale benchmark for auto makers in China, though details are still unclear.
"I can't predict exactly what the outcome will be, but as far as the regulatory side is concerned, we're in close contact with our partners, who happen to be very well established in the NEV market in China," said Troska.
"We are looking at how to best position ourselves."
He also said that the relevance of the Chinese market for Daimler comes hand-in-hand with influencing global product decisions, because Daimler's product strategy needs to take China into account.
Mercedes-Benz's close relationship with its Chinese customer base has paid off, and the company's impressive growth in China has elevated the company globally.
"China contributes to this effort, and although we are still third in China in terms of sales volume, we have narrowed the gap between ourselves and our competitors," said Speeks.
"However, we have no overreaching target to be number one in China, and instead want steady, sustainable growth that can be supported not only by our shareholders and partners, but also our dealers."
Mercedes-Benz is attempting to not only increase sales in China, but to evolve in a way which creates real value for customers in China. This requires humility and patience, as well as initiative.
"Our growth is based on our customers pulling us, and not us pushing our customers," said Speeks.
(China Daily 11/21/2016 page15)
Today's Top News
Editor's picks
Most Viewed