Whenever a world famous wine critic is in town, wine lovers and gourmets watch and listen closely to see which wines the guru chooses to present and what foods deserve to be enjoyed along with these exceptional vintages.
The Park Hyatt Beijing recently fueled such expectations by hosting a celebration of Australian cuisine and fine wine under the guidance of Australia's leading wine writer, James Halliday.
"I want people in China to treat wine as a part of daily life, like Australians do," said Halliday, 78.
The widely published wine expert summarized Australian wines for Chinese consumers: "Australian wines, compared to the wines of Europe and California, are different, because the accent is much more on the flavor of the grape.
"The fruit character in the wine is more important for us. Yet you still get the structure, the texture. The first quality is freshness and recognition of flavor, which corresponds to the variety on the bottle."
Halliday was not the only master giving a presentation that night for the Hyatt Hotels Corp's ongoing global series, Masters of Food and Wine Down Under.
As the attendees took their seats, executive chef Jack Aw Yong, the food and wine matchmaking master of the night, explained how he designed and constructed the elaborate centerpiece. A grape vine led the eye down the length of the table, which was laden with bunches of large, fresh grapes and nests of delicate quail eggs.
Looks of awe and wonder were visible on the faces of guests around the table as each course was brought from the kitchens, which were a constant hive of activity throughout the meal.
The highest expectation was for the chocolate-fed wagyu beef from Mayura Station in South Australia. Scott de Bruin, the pioneer master of chocolate beef, explained to the diners that his cattle are full-blood wagyu cows and are "incredibly happy".
All cows are treated to 1.5 kilograms of chocolate every day and their water comes fresh from the caves beneath their feet, Bruin said.
The beef was cooked in water heated to 48 C for two hours and served with slices of white truffles.
The matching wine was Best's Thomson Family Shiraz 2010 vintage, according to the hotel's director of wine, Advanced Sommelier and the feast's wine storyteller, master Li Meiyu. "It is made from grapes from 15 rows of old vines dating from 1886, and is aged in old and new oak barrels," she said.
Why Australian wine?
According to Halliday, "there's no limit to the style of wines that come from Australia". He said this was due to its huge size and varied geography, which offer "just about every combination of climate and soil that you can imagine".
This is a very different environment to the older European wine industries where regional variations are tightly controlled and therefore dependent on one geographic area, he said.
"Burgundy has been absolutely devastated by frost and hail from 2011 to 2015. They've hardly had a good vintage in all of those years. We don't have to put up with that in Australia, so it does give us freedom to experiment."
China's wine industry has seen remarkable growth in recent years, both in production and consumption.
Although Australian wine hasn't seen its share of sales in China rise against the dominant French exports, Halliday said "the whole market has grown at an incredible rate and we still have 20 percent of a much larger pie".
China consumes far more red wine than white. Halliday identified the reversal of this trend as "the fundamental, the biggest change, I think, going forward, is the exploration of white wine".
He recommended Australian riesling in particular as a good accompaniment to most seafood, especially Cantonese dishes, as it controls the spicy element.
"What I think really makes a match work is for people to experiment, for them to find out what works for them," he said.
camilla@chinadaily.com.cn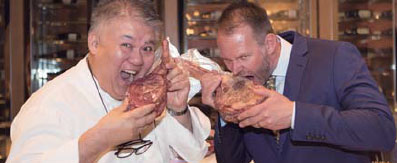 A chef and producer pose at the Park Hyatt Beijing. Provided To China Daily
(China Daily 11/05/2016 page10)