Editor's note: Three years ago, President Xi Jinping launched China's ambitious Belt and Road Initiative, to link vast transcontinental swathes with a common economic thread. The initiative brought unprecedented opportunities to companies worldwide to expand their business and access new markets. China Daily presents a series of interviews with top executives of foreign companies, looking at the impact of the initiative on their operations as well as markets. In this edition, Stephen Shang, Honeywell China CEO, tells how the US-based technology conglomerate explore opportunities in emerging markets to support the initiative.
Honeywell International Inc, the US-based manufacturing and technology conglomerate, said it has been partnering with leading Chinese companies to explore infrastructure development and other opportunities in emerging markets, to support the country's Belt and Road Initiative.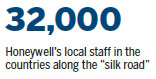 Honeywell China CEO Stephen Shang said his group was well-positioned to support the Belt and Road Initiative through its China growth strategy and portfolio.