A series of cultural events have been planned to mark the 400th anniversary of the death of celebrated playwright Tang Xianzu (1550-1616), who is known to his devoted fans as "The Shakespeare of the East".
The events have been arranged by the local government in Fuzhou, Jiangxi province, where Tang was born.
The Ming-Dynasty (1368-1644) playwright also composed more than 2,000 poems and essays, most of which were written during his later years. He is particularly remembered for his four plays - The Peony Pavilion, The Purple Hairpin, Record of the Southern Bough and Record of Handan - collectively known as The Four Dreams of Linchuan.
As Shakespeare and Tang both died in 1616, an event was held from April 22-30 in Shakespeare's hometown of Stratford-upon-Avon in the United Kingdom to honor the two great playwrights. Tang's masterpiece, The Peony Pavilion, which is one of the most famous Kunqu opera pieces, was staged during the event, along with performances of Fuzhou's local folk opera.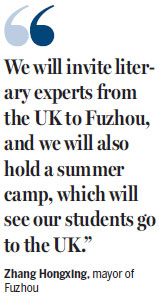 Photos of Tang's hometown will also be exhibited at the University of Leeds and a Shakespeare museum in Stratford.
This September, a three-day event, the third China Fuzhou Tang Xianzu Art Festival, celebrated the legacies of the two playwrights. Opened by a musical, titled Tang Xianzu, performed by the Shanghai Conservatory of Music, the event also saw the opening of the Tang Xianzu Memorial Museum, a stage production, A Midsummer Night's Dreaming Under the Southern Bough, by the University of Leeds - which combined Shakespeare's A Midsummer Night's Dream and Tang's Record of the Southern Bough, as well as forums comprising scholars from China and the UK.
In addition, Stratford-upon-Avon and Fuzhou signed a cooperation agreement at Linchuan No 1 Middle School in Fuzhou.
"The memorandum will help strengthen the influence and legacy of the two playwrights. We will invite literary experts from the UK to Fuzhou, and we will also hold a summer camp, which will see our students go to the UK," said Zhang Hongxing, mayor of Fuzhou, during the event in September.
A local Fuzhou-dialect version of The Four Dreams of Linchuan, which was adapted from Tang's four well-known works, was also staged at Beijing's National Center for the Performing Arts, Tshinghua University and Peking University in October.
Exhibitions to mark the contributions made to world literature by Tang and Shakespeare are being held in 26 Chinese Cultural Centers in different countries through December.
Titled Dialogue Across Time and Space: Homage to Tang Xianzu and William Shakespeare, the exhibitions, which started on Sept 1 in Singapore, compare the lives and works of the two dramatists whose influences remain powerful to this day. The shows, which are slated to end in Mauritius, will be accompanied by seminars, forums, movie screenings, live performances and workshops.
chennan@chinadaily.com.cn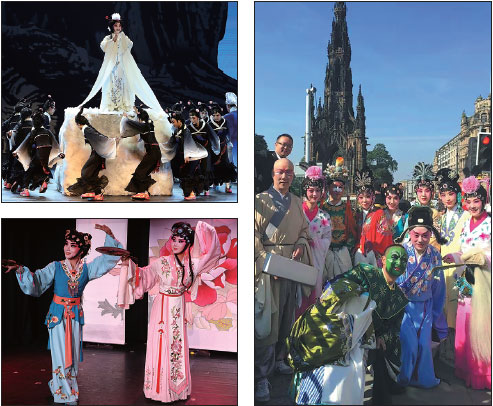 The Ganju opera renderings of Tang Xianzu's The Four Dreams of Linchuan have been performed in various cities in the United Kingdom.Photos Provided To China Daily
(China Daily 10/28/2016 page11)