The second China (Guangdong) International Internet Plus Expo opens on Oct 20 in Foshan, Guangdong province, aiming to build a platform for the convergent development of internet technology and traditional manufacturing.
Exhibitions in the four-day expo cover topics like internet-aided smart manufacturing, financial management, electronic commerce, and innovation and entrepreneurship, according to Chen Xinwen, deputy chief of the Foshan Publicity Department.
Chen said that 613 enterprises from home and abroad will attend the expo.
Chinese internet and IT giants such as Tencent, Baidu, Huawei Technologies, and international companies like Google, Facebook and Twitter will show their technologies, products and services at the expo.
In addition, delegations from the United States, Israel, Japan, Singapore and countries in the Asia-Pacific region will also have exhibitions.
In a total exhibition area of 45,000 square meters, there are seven zones: intelligent manufacturing, cutting-edge internet-plus technologies, intelligent home furnishing, smart cities, Internet-Plus finance, e-commerce, innovation and entrepreneurship.
Zhou Peishan, deputy chief of the Foshan Science and Technology Bureau, said this year's expo focuses on internet-plus manufacturing, so an international smart manufacturing show is a major part of the expo.
Thirty-four forums and meetings related to the Internet-Plus strategy will be held during the expo, including the New Economic and New Energy Summit Forum, the 2016 Sino-German Enterprise Investment and Acquisition Forum, the second dialogue on the Made in China 2025 and German Industry 4.0 strategies.
As acquisition is becoming a useful method to help Chinese companies' international operations, Foshan's businesses are also cooperating with their German counterparts to step onto the world stage, according to Wu Yi, chief of the investment service bureau at the Foshan Sino-German Industrial Service Zone.
He said during the 2016 Sino-German Enterprise Investment and Acquisition Forum that Foshan's firms will seek further cooperation opportunities with German companies.
Wu noted that Foshan, an industrial hub in South China, is also a major stage for Sino-German industrial exchanges. The Sino-German Industrial Service Zone has been regarded as one of the six major development-boosting platforms in Guangdong province.
At this year's expo, a number of investment service companies will be invited to introduce current and future trends of mergers and acquisitions in Germany and beyond, as reference for Chinese enterprises.
Moreover, Wu said local enterprises with overseas M&A experience will share their experiences at the forum.
Aiming to facilitate the cooperation of small and medium-sized enterprises in the two countries, a Sino-German industrial cities alliance was recently launched in Hanover, according to Wu.
The second China (Guangdong) International Internet Plus Expo was organized by the Guangdong provincial government, Ministry of Industry and Information Technology, Ministry of Science and Technology, the Chinese Academy of Engineering and China Council for the Promotion of International Trade.
A total of 456 companies and 246,000 visitors attended last year's expo.
zhuanti@chinadaily.com.cn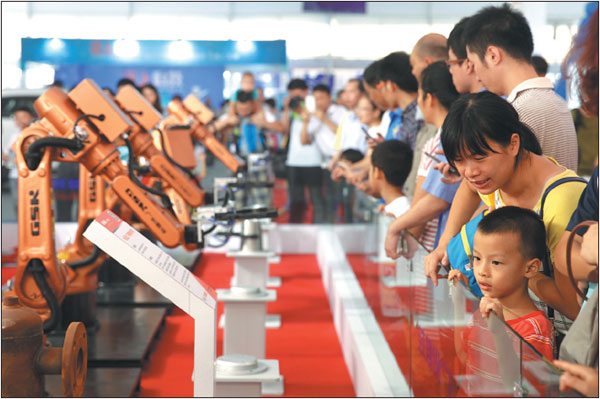 An industrial robotics show at last year's Internet Plus expo attracts the attention of many visitors.Zhang Mingshu / For China Daily
(China Daily 10/20/2016 page10)