If a person is ill, he or she can walk to the neighboring hospital to get medicine, but if a huge machine in a plant is "ill", the best remedy is to let the repair workers come.
Currently, a mobile phone app called Plant Assistant in Foshan can locate nearby repair workers and send them to machines that need assistance.
"The platform runs in a pattern similar to Didi Chu xing's popular online ridehailing app. Its users can find nearby workers to solve machine faults right on the spot," said Guo Zhenfa, chairman of an air compressor company in Foshan, which uses the app.
Guo said that there are more than 4,000 professional repair workers who are offering services through the app.
The story happens in Foshan, a traditional manufacturing hub in Guangdong province. The city has recently been heading for Internet-Plus industrial development. Unlike other cities in the country, those platforms based on internet technologies were not made for the common needs of consumers, according to industrial insiders.
"Foshan has a favorable environment for growing internet businesses for industries. Many of the internet platforms are built for the manufacturing sectors," said Song Bingchen, CEO of the local Huicong Household Electronic.
"Foshan is most likely to become China's innovation hub for internet-industry integration," Song said.
Foshan is the first city in Guangdong province to apply the Internet-Plus strategy to its industrial development, according to the city's government.
A number of tech companies from home and abroad have settled in Foshan to serve local manufacturers. Large projects in the field include the Zhongguancun Internet Plus Intelligent Manufacturing Center and the University of Michigan international intelligent manufacturing innovation center in Nanhai district.
"We are keeping up with the innovation-driven development strategy proposed by the provincial government by launching a number of major technology platforms in the city," said Lu Yi, Party chief of Foshan. He added that Foshan is planning to build a national-level manufacturing innovation hub.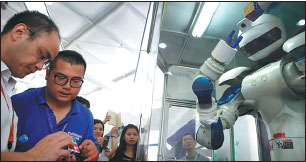 Smart technologies such as robotics are playing an important role in upgrading Foshan's manufacturing industries.Zhang Mingshu / For China Daily
(China Daily 10/20/2016 page10)